Welcome to the Y6 Class Page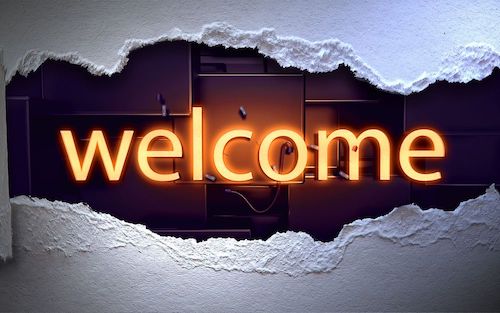 Week 6; 29th May - 1st June
Week 5; 22nd - 26th May
Week 4; 15th - 19th May
Week 3; 8th - 12th May

We've arrived!!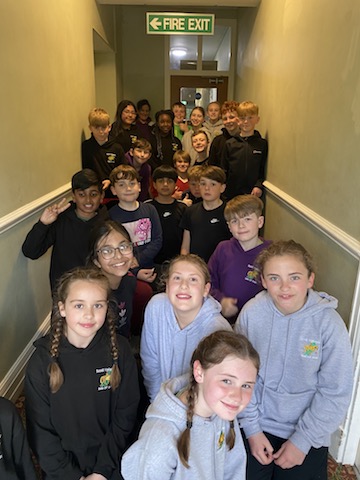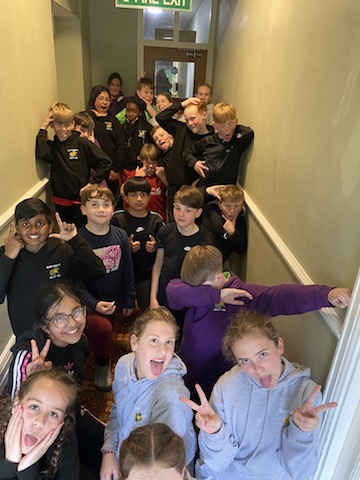 Week 2; 2nd - 5th May
We enjoyed our cricket sessions this week! Check out the action shots!!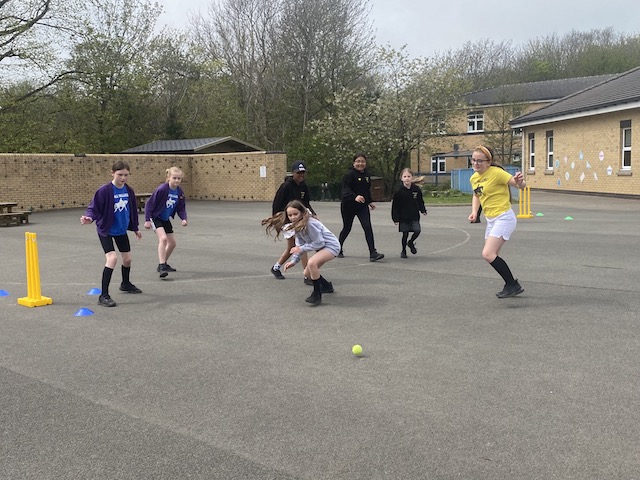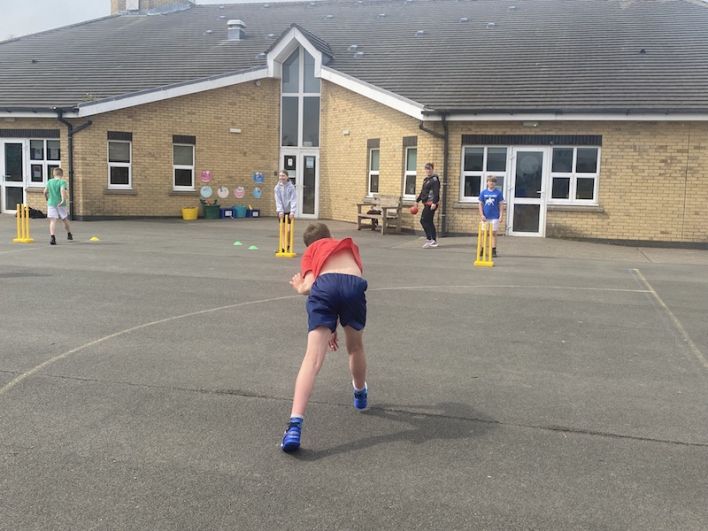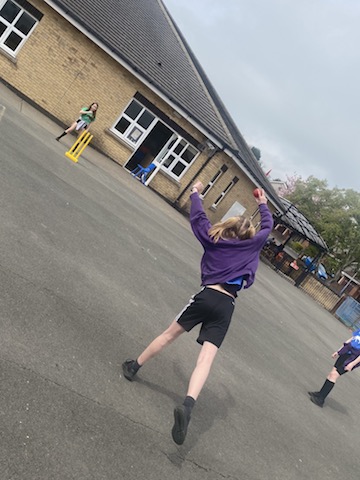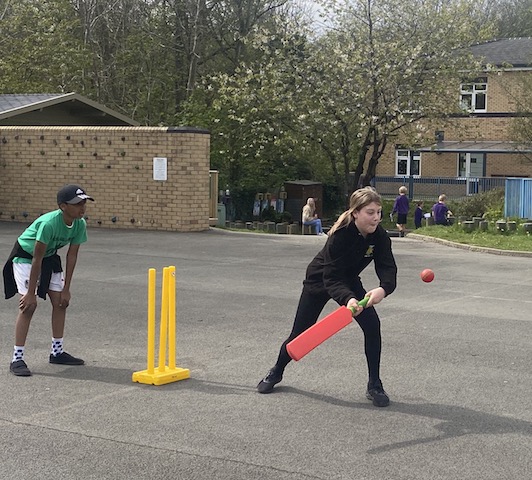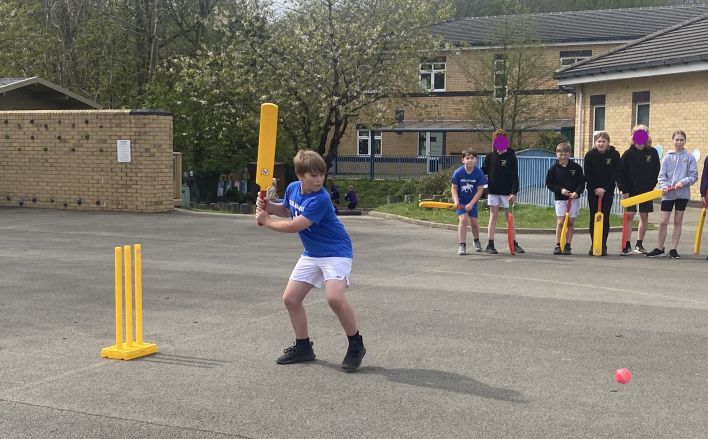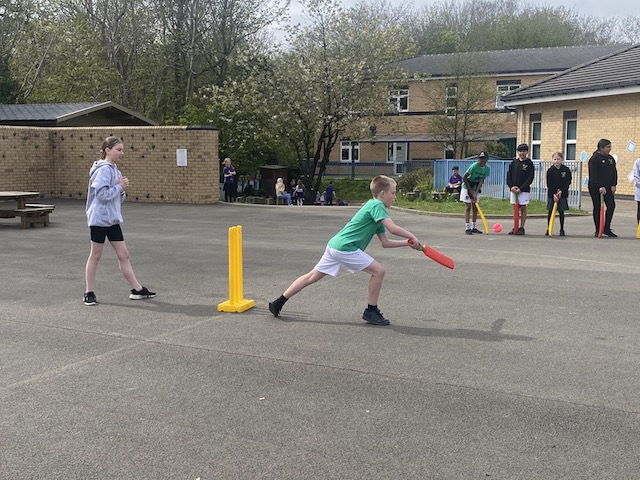 Week 1; 24th - 28th April
We had a visit from the Isle Listen team who took us through a lesson on 'Friendship' - an important one to prepare us for the next step. We looked at things people say and discussed whether or not this 'crossed the line' as far as our friendship was concerned.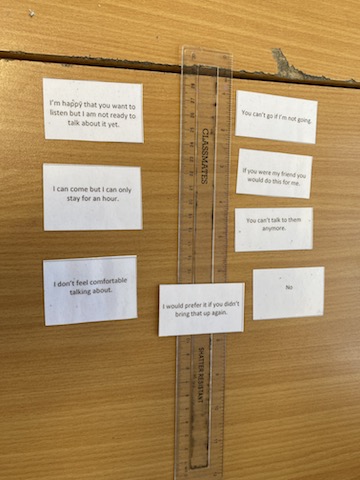 We have started another book for our final Literacy topic - Street Child. Although we have only just begun we are already immersed into the story enough to describe our main character - we loved using the big paper to show our learning in a different way!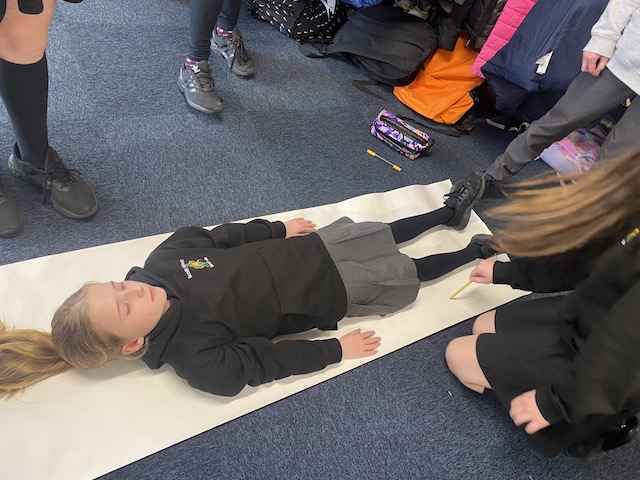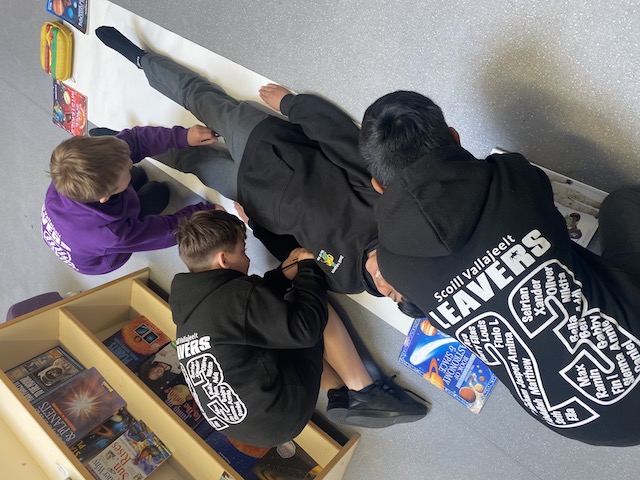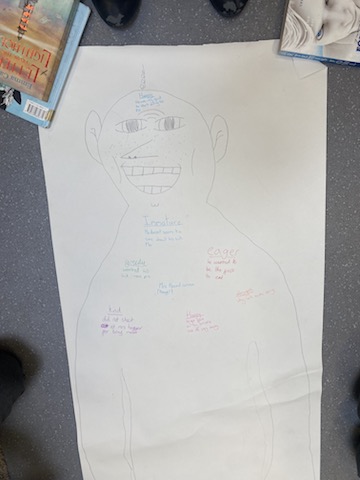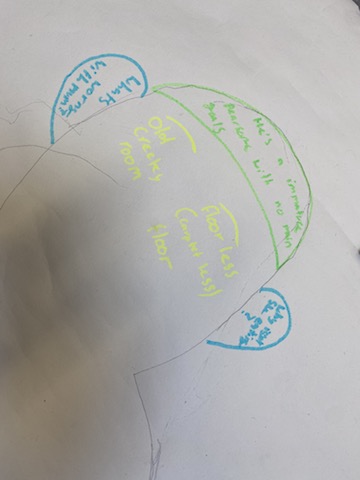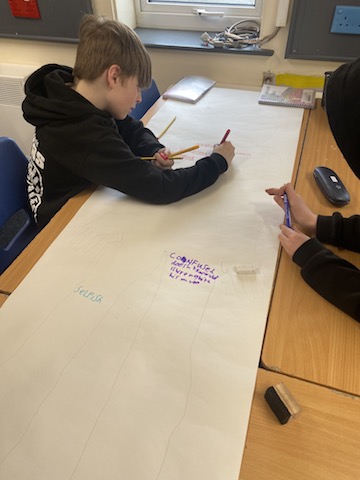 We have all completed our First Aid certificates. We learnt about "DRs ABC", how to stop bleeding, putting on a bandage, CPR, putting into the recovery position and much more! If there's an incident and a casualty...we know what to do!!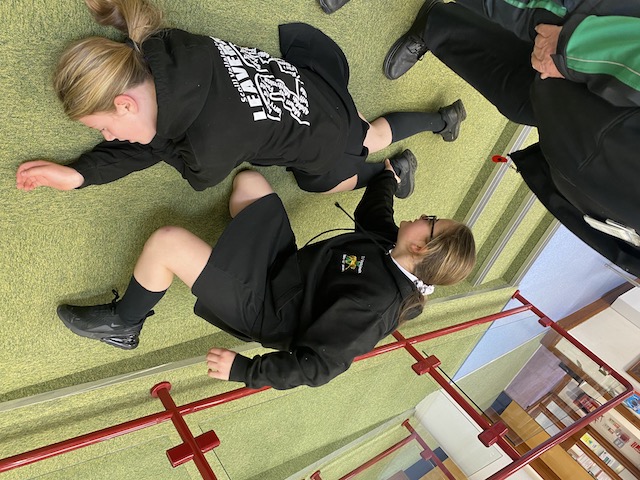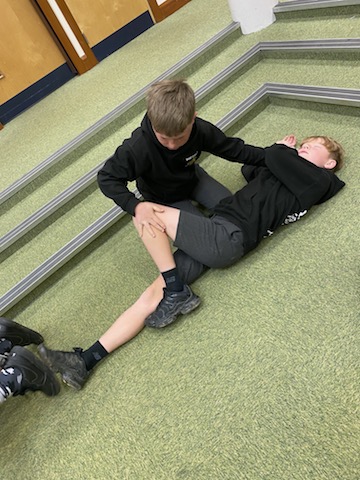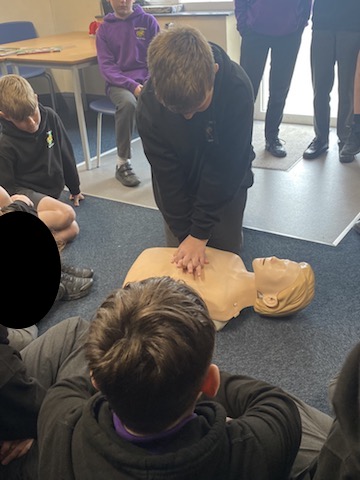 Week 6; 3rd - 6th April
VASA interviews took place this week! The children enjoyed dressing up and taking part in all of the interview elements;
- fitness test; core strength (sit ups), visual test, posture and gait (walking with items on their head!) and a beep test
- maths space work,
- scientific reasoning; children completed science tests to identify which sample was the martian soil
- food testing; eating space food to make sure they could cope in space!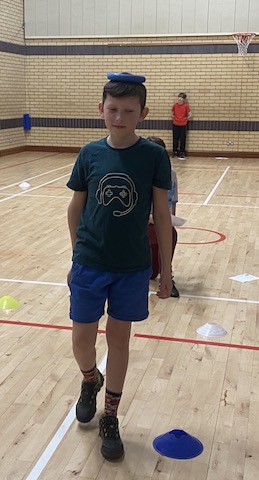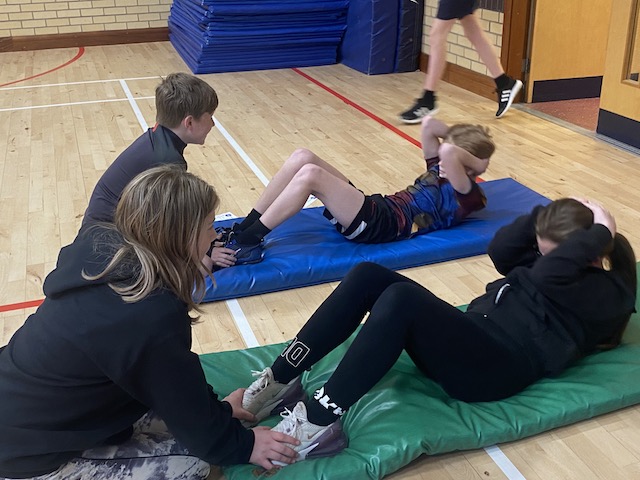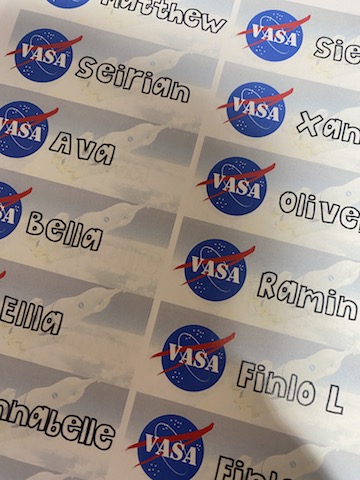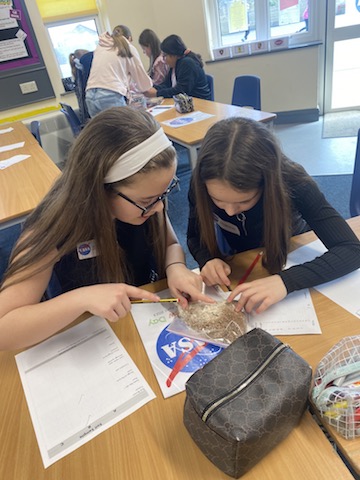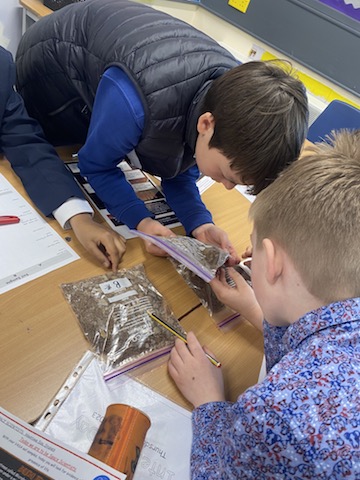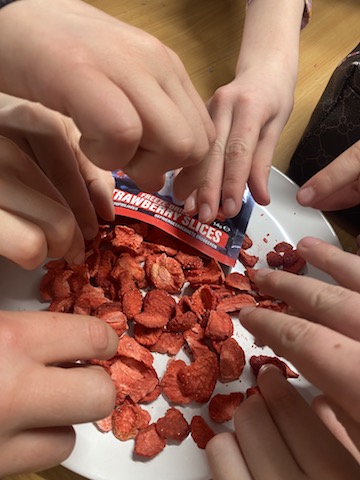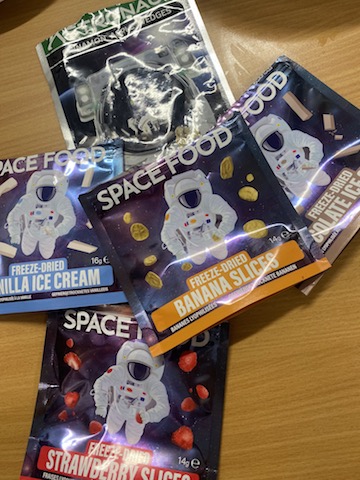 Week 5; 27th - 31st March
We've been completing our dance and golf sessions over the past few weeks. This has culminated in creating a dance routine as a group to music and becoming proficient in putting and chipping the golf ball. Thank you so much to our gold and dance teachers for epic Wednesday afternoon's this half term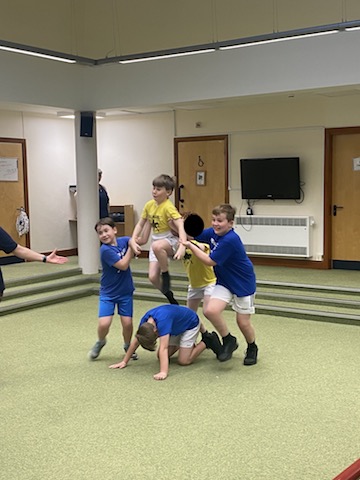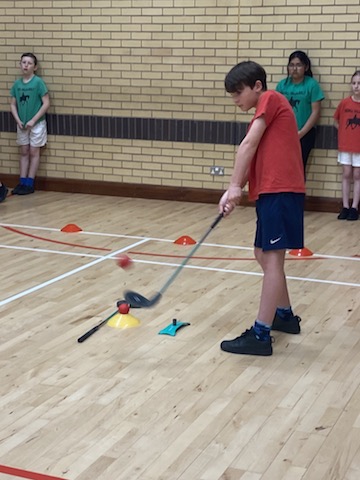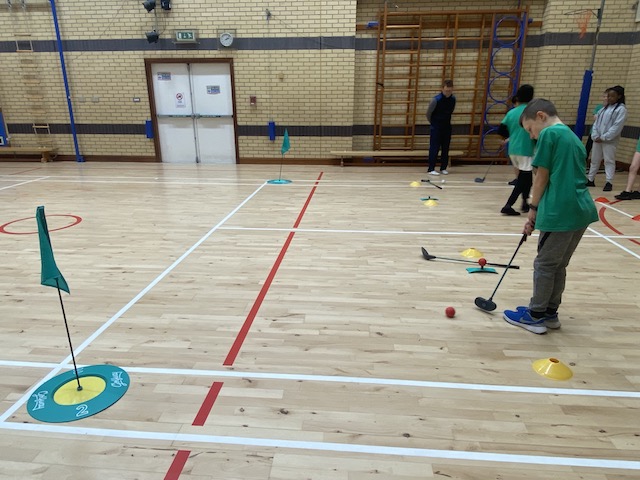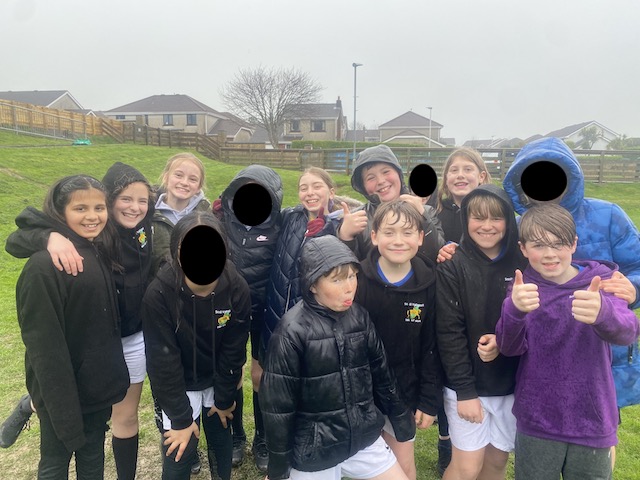 Week 4; 20th - 24th March
Our Space topic is coming to a close after an exciting term. This week, we considered the relative size of the planets using fruit......

......and then the relative distance of the relative fruit on the playground!


Week 3; 13th - 17th March
This week we have been considering what we need to include in order to make an excellent character description. Mrs Dixon put some ideas into the Meadow Hall and the children had to decide whether they would help to describe a character or not. From this we were able to develop a 'toolkit' for character description.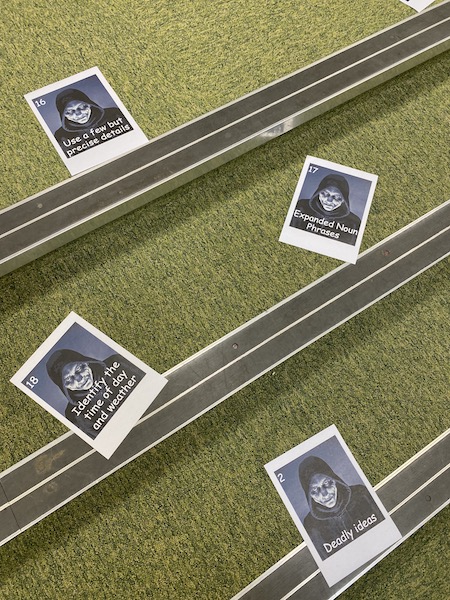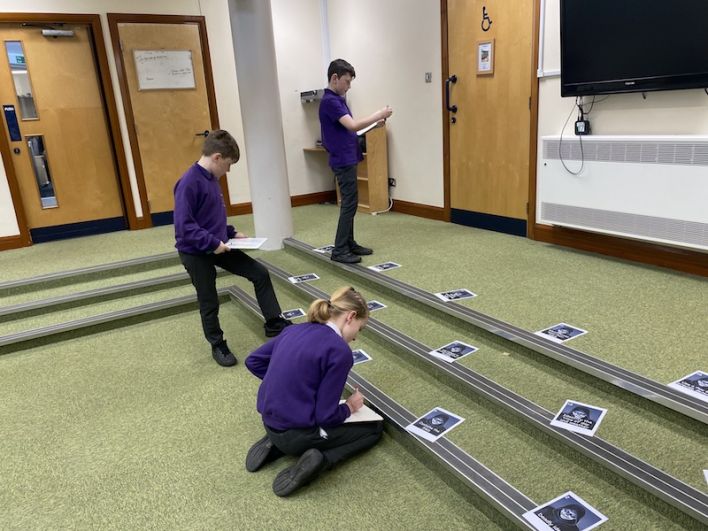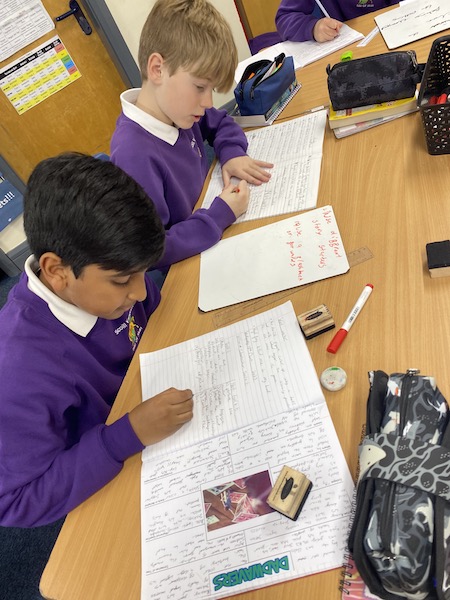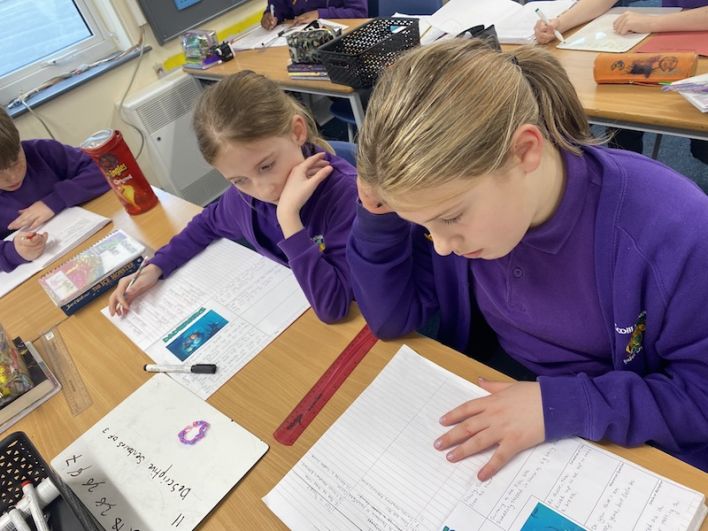 In Numeracy, we have begin a new topic on decimals. Our focus this week has been on place value.
Our space topic has taken a turn into our Solar System and the children have enjoyed learning about the different planets in our Solar System.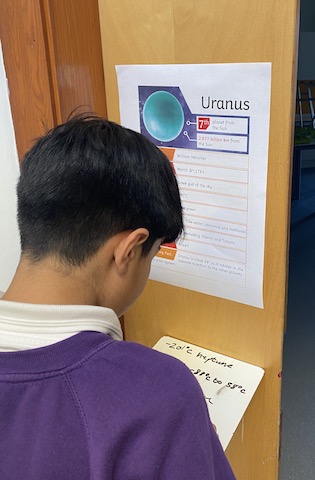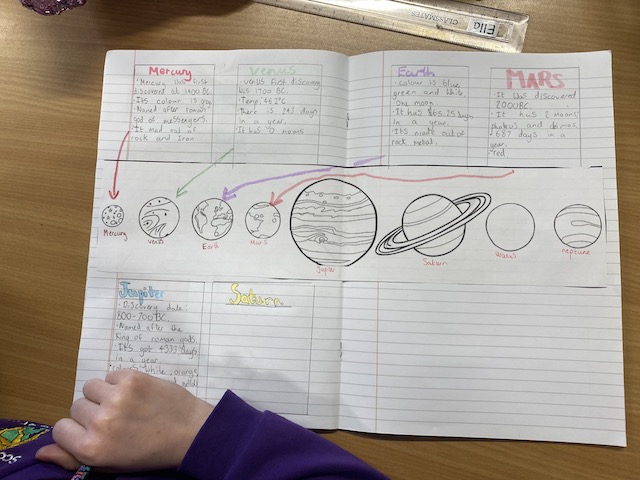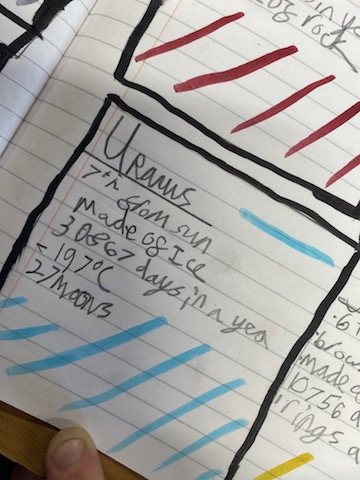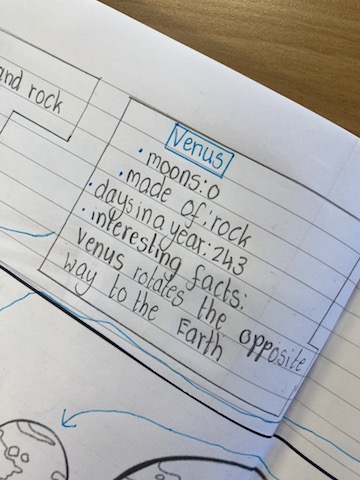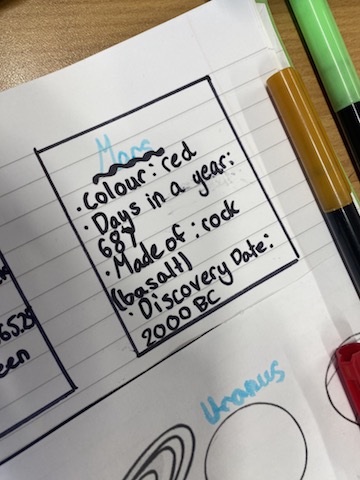 We enjoyed our dressing up for Comic Relief day and our latest golf lesson by perfecting our stance and accuracy!
Week 2; 6th - 10th March
This week we have been developing our character description by creating epic sentences. With "Villains" in mind we first collected words to create a brainstorm table - Abstract nouns, colour words, prepositions and verbs. Then we used our table of ideas to create amazing sentences which we hope will come in handy through the topic.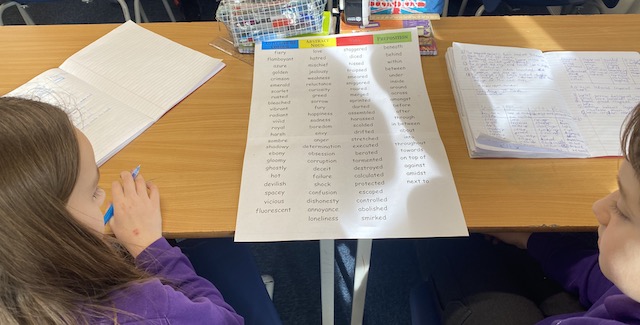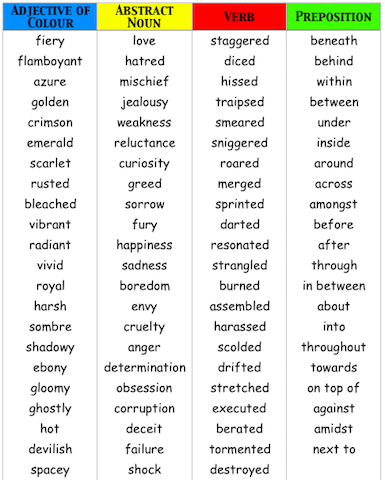 In Numeracy, we have been completing revision of our calculation methods (multiplication and division) with particular reference to Decimals.
We have begun a new PE skill this week. A professional golf coach is coming in for the next few weeks. We begun by thinking about putting and considering how to hold a club. We have also been learning some new golf vocabulary!
Week 1; 27th February - 3rd March
In Numeracy this week, we finished our topic on Fractions and completed our assessment to show our impressive learning across the unit.
We started our new Literacy topic entitled "Villains" and the children have been thinking about the different fictional villains they know as well as considering their character traits.
During our first swimming session of the new term, many of our class tried out for the Dolphin Gala swimming team! Best of luck to all of those who manage to get into the team to represent Scoill Vallajeelt!




Week 6; 13th - 17th February
Gadgets! Gadgets! Gadgets! After designing a gadget last week, this week saw us writing to persuade people to buy it. We made a plan first, deciding on our target audience then produced some amazing pieces of writing.




We finished our half term with creating our designs!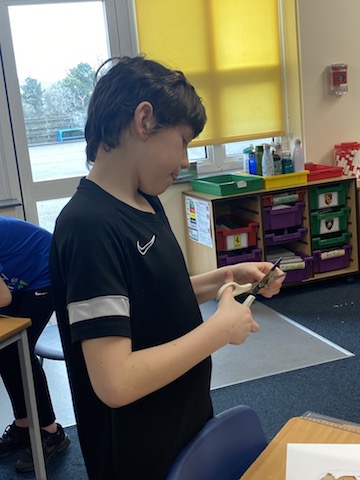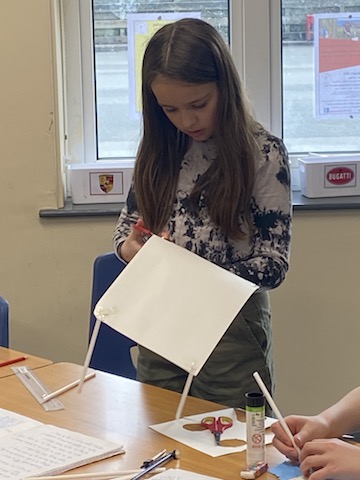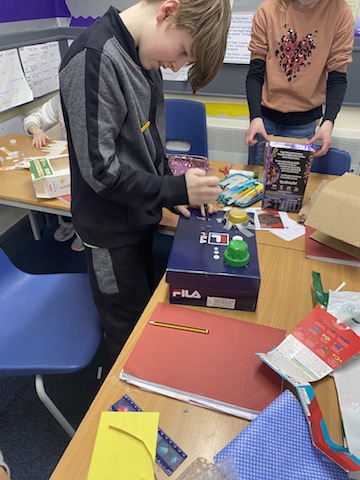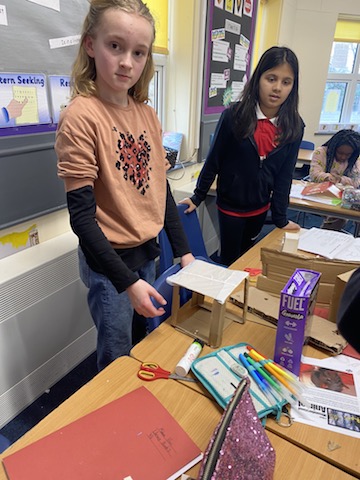 In Numeracy, to continue our Fractions topic we have been dividing fractions by whole numbers and other fractions. We found a handy little method!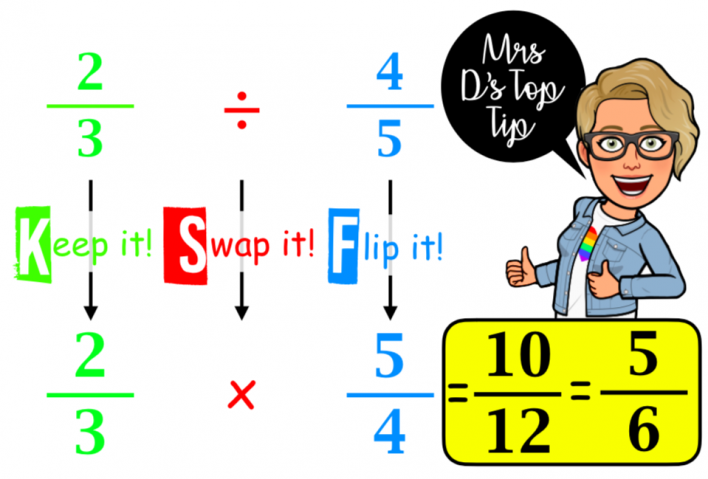 Week 5; 6th - 10th February
In Numeracy, we started multiplying fractions.....eeeeek!! Year 6 have been excellent at having a go at lots of different methods to find the best fit! Ask them to show you the Area Model Method, the Sandwich Method and the Butterfly Method!
In Literacy, we have designed our gadgets in preparation for our writing assessment next week!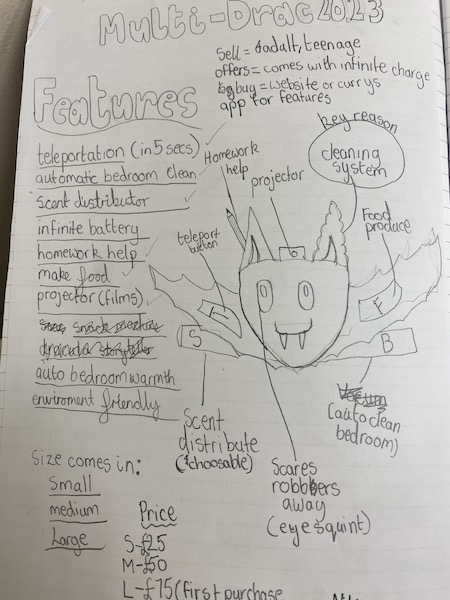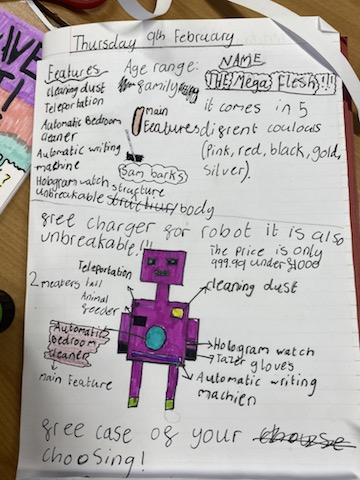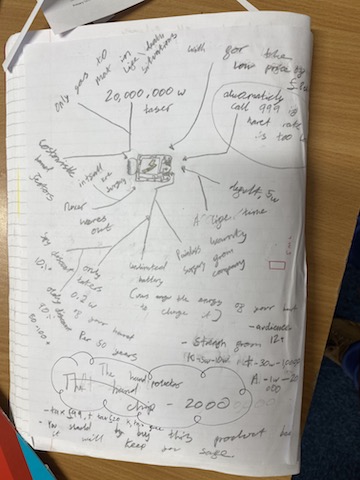 Week 4; 30th January - 3rd February
We had an exciting week this week - Junior Achievement day was fantastic. We were learning about the world of business. We played the trading game, talked about imports and exports, played a game about supply chains and then spent the afternoon creating our own product to be sold to different countries around the world!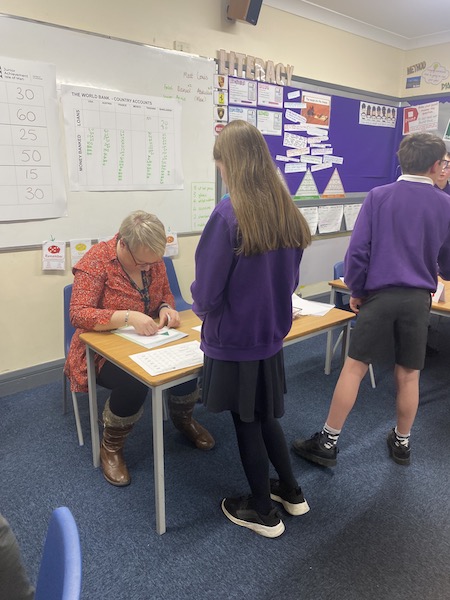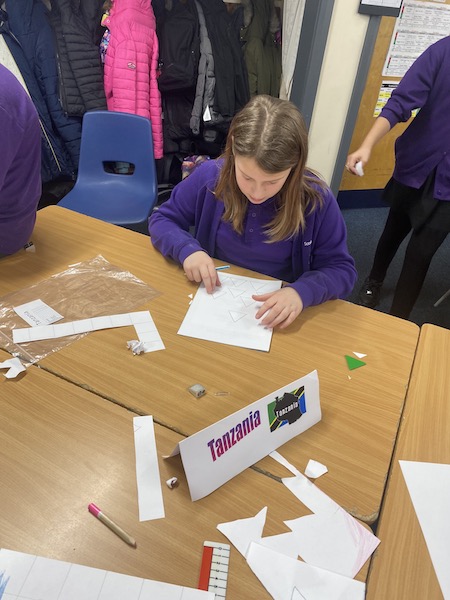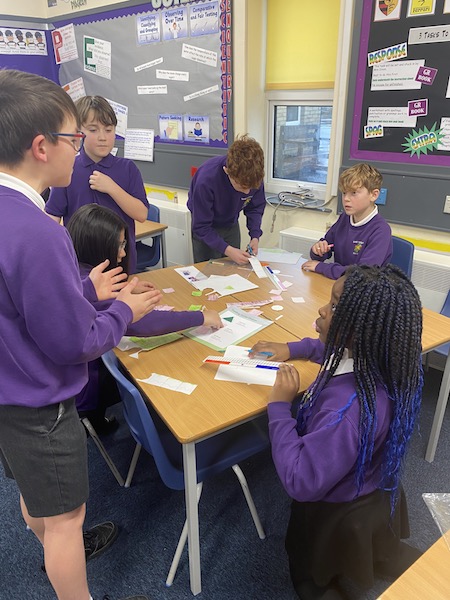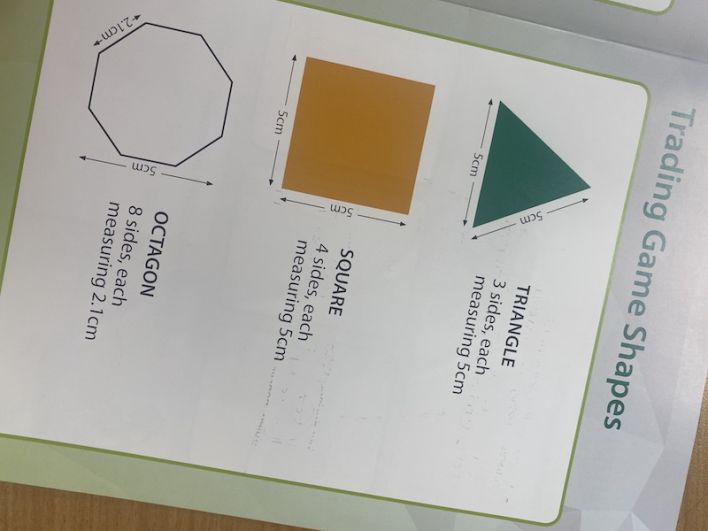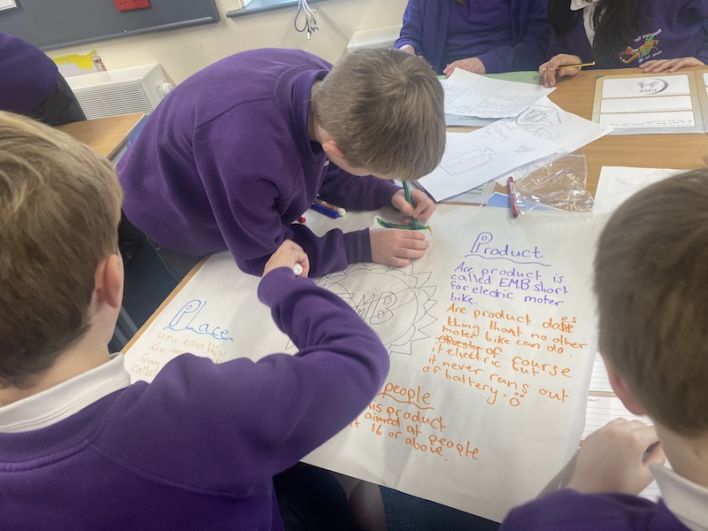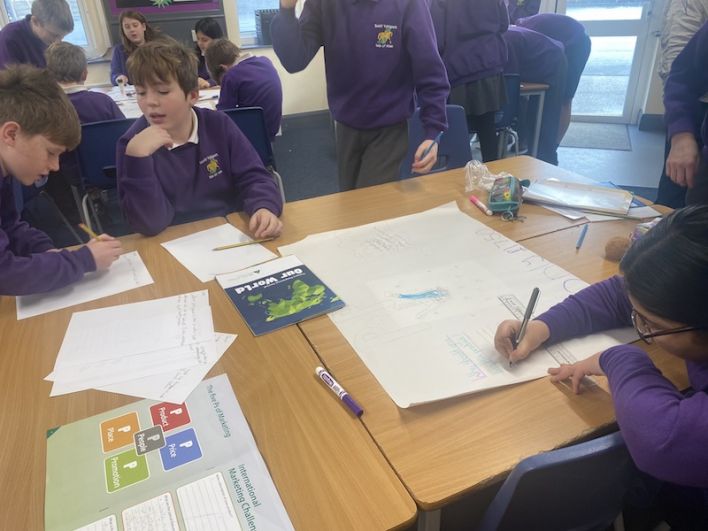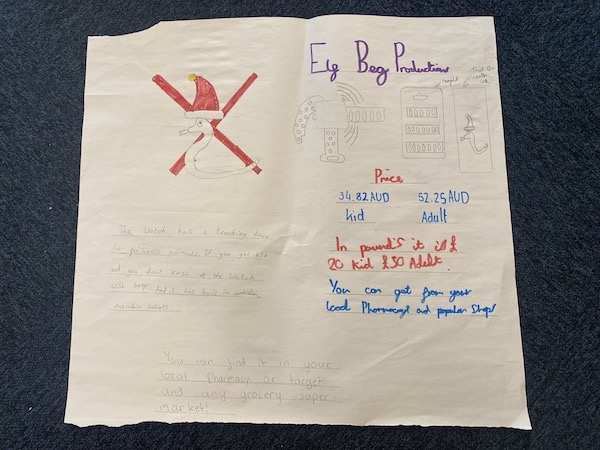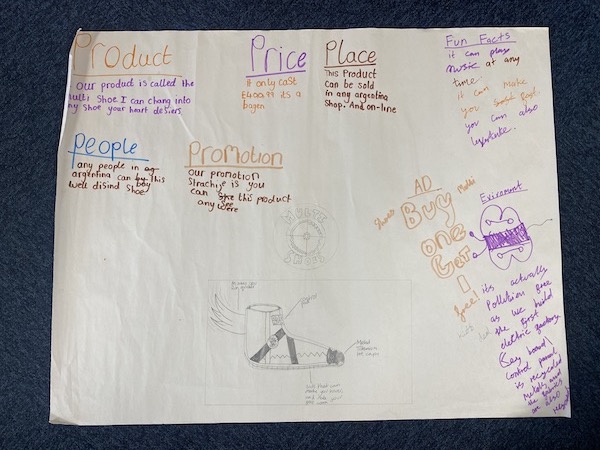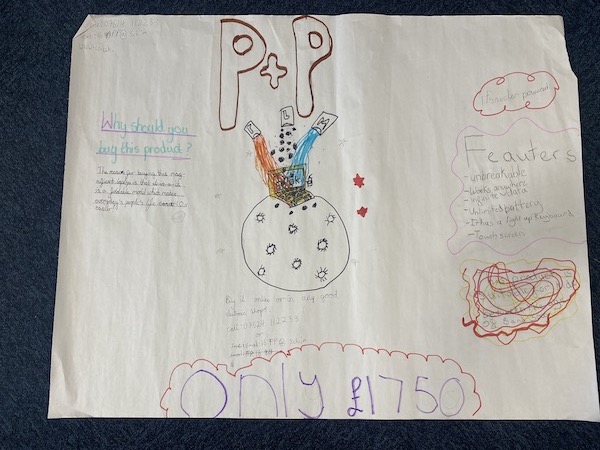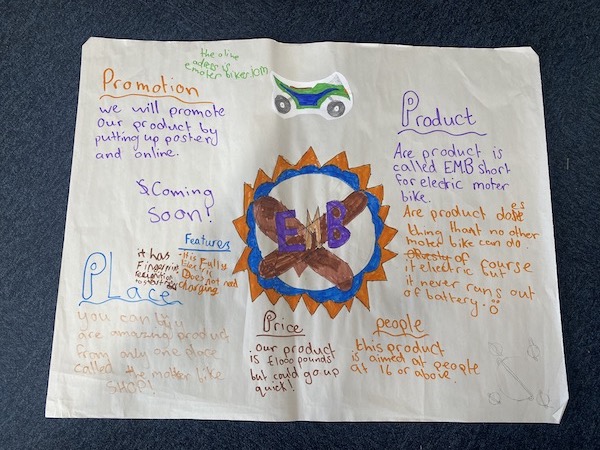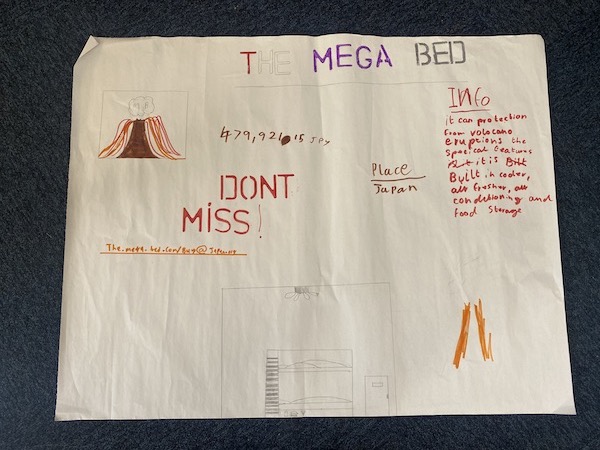 Week 3; 23rd - 27th January
In Literacy, our work continues with our persuasive text. This week we have been finding the "persuasion toolkit" in different examples and working on our Emotive Language. We've decided we're pretty good at exaggerating and using impressive words which will evoke an emotion...especially from our parents!!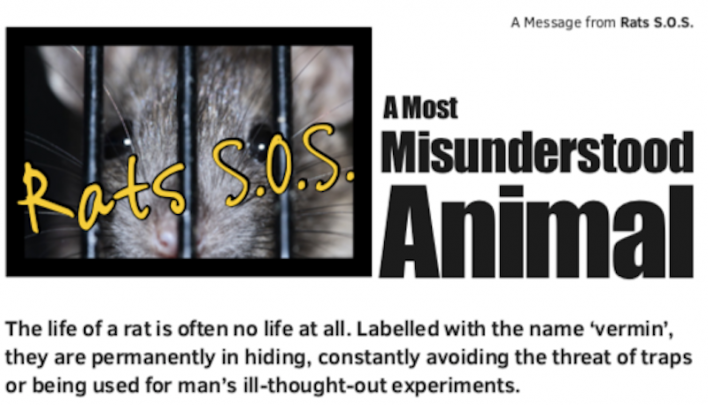 In Numeracy, we have been revising the meaning of Improper Fractions and Mixed Numbers and trying to switch in between the two!!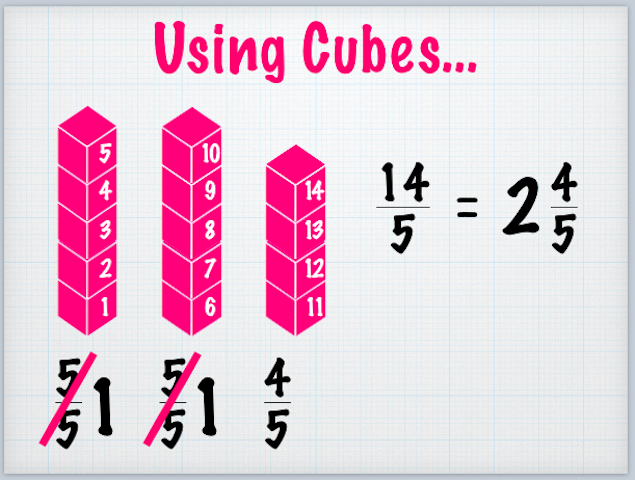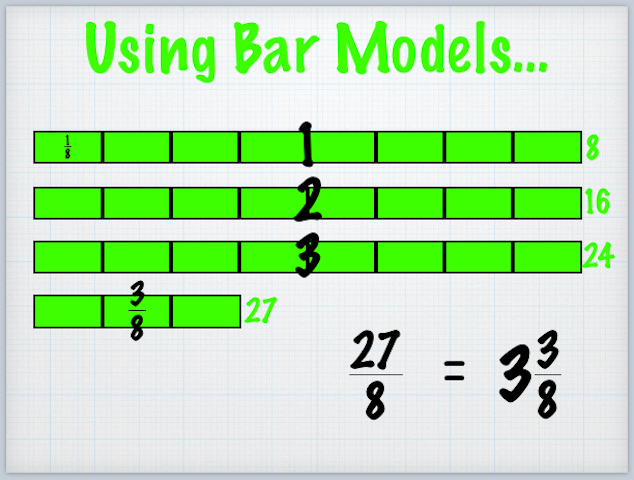 Week 2; 16th -20th January
In Literacy, we have begun to learn our model text too and created a text map to help us out!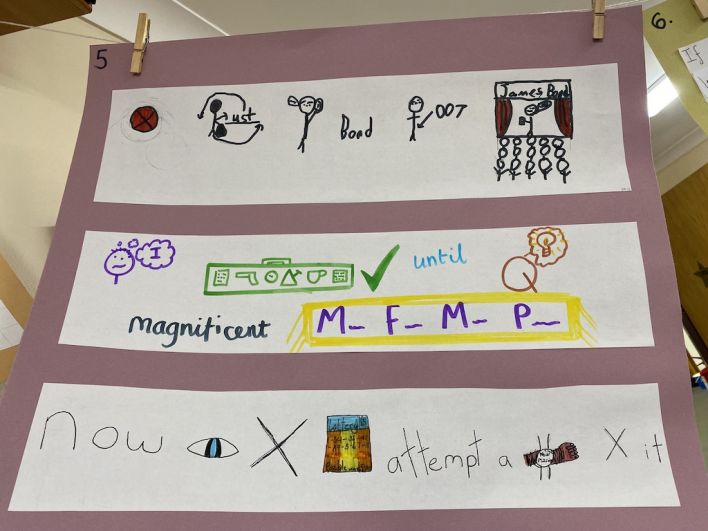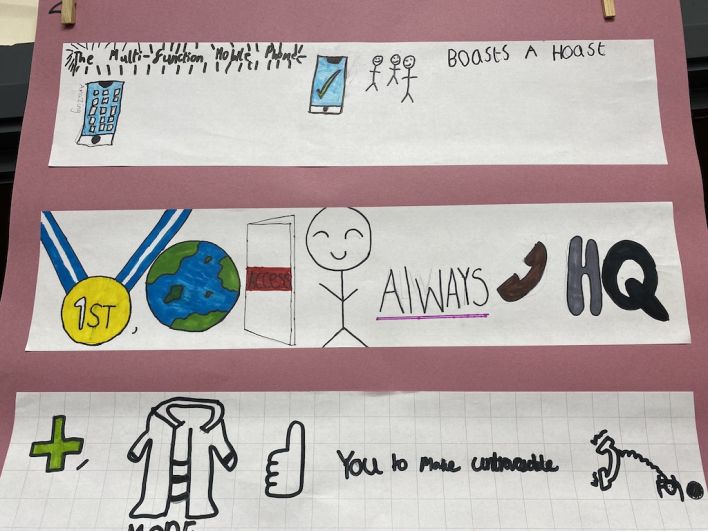 We have identified the tricky words in the model text and we're now masters at reading them quickly and understanding definitions.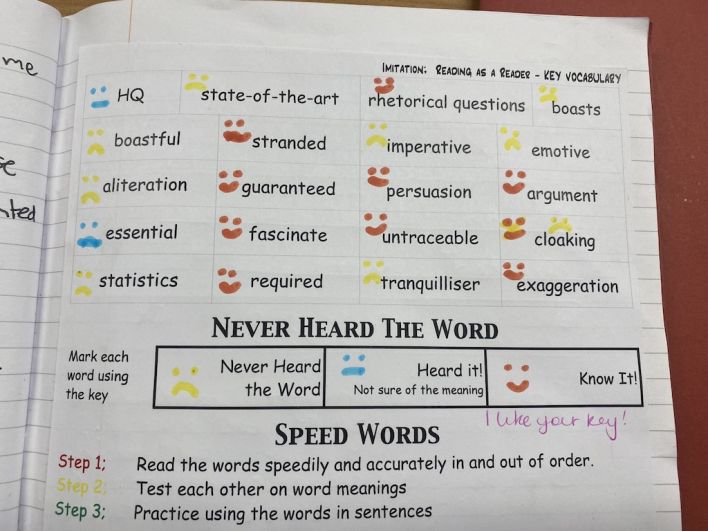 Our busy Literacy week, concluded with learning the 'Persuasion Toolkit' - the things we can use in our writing to persuade!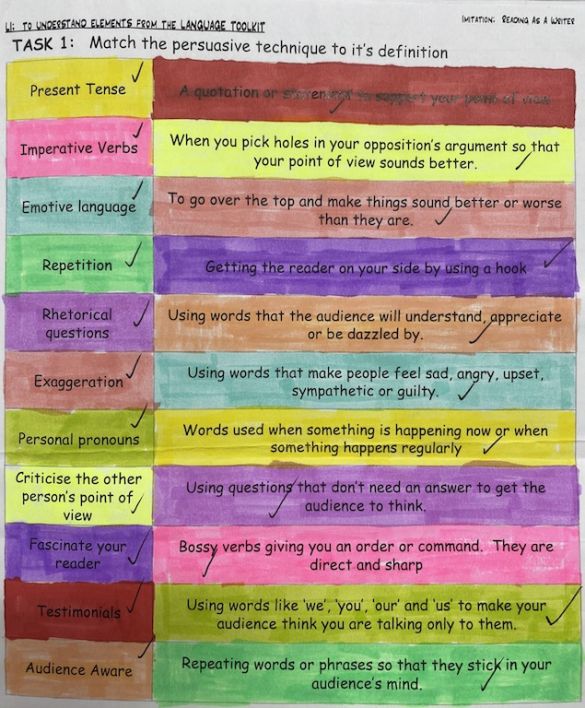 In Numeracy, we have moved onto Equivalent Fractions and have spent a whole week making sure we understand the process of simplifying / reducing fractions.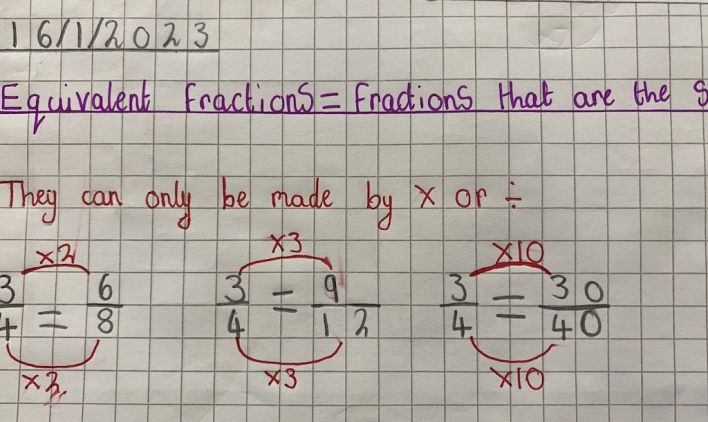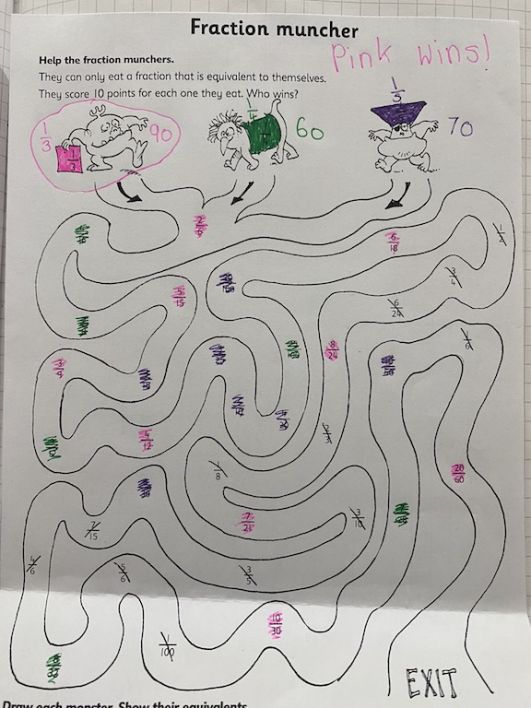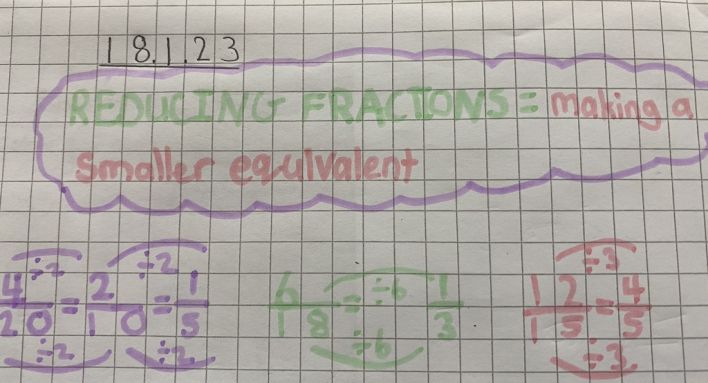 Our new PSHE topic is on Health and Wellbeing. Our first lesson, we talked about our goals for the future and created these crazy pictures!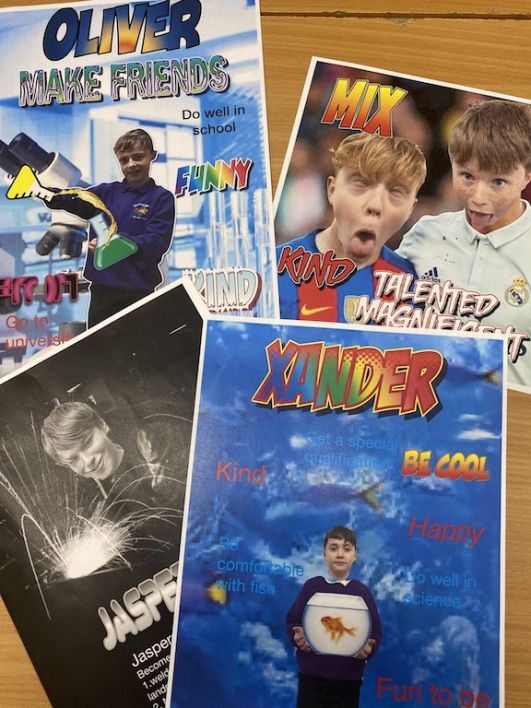 Week 1; 9th - 13th January 2023
We have started a new Literacy topic on Spy Gadgets. The theme is really 'persuasion' but to hook them in, Mrs Dixon asked everyone to create a spy name and design the front cover of the book!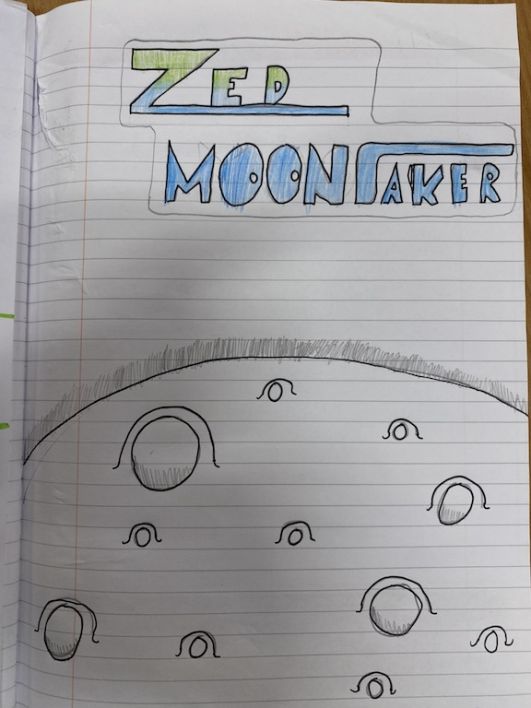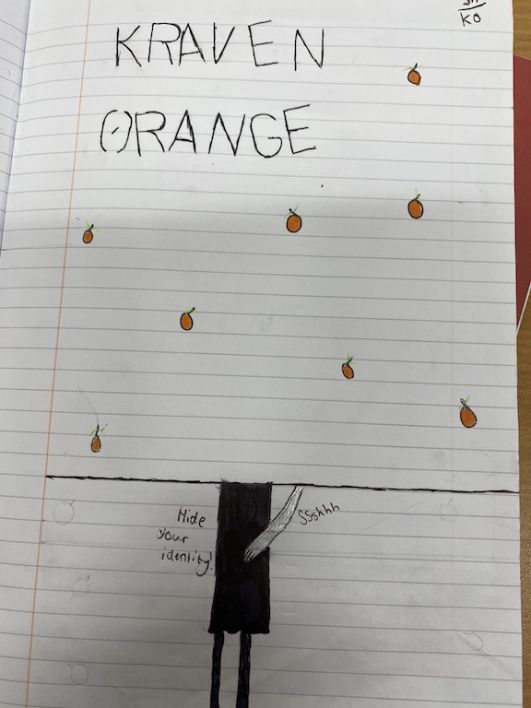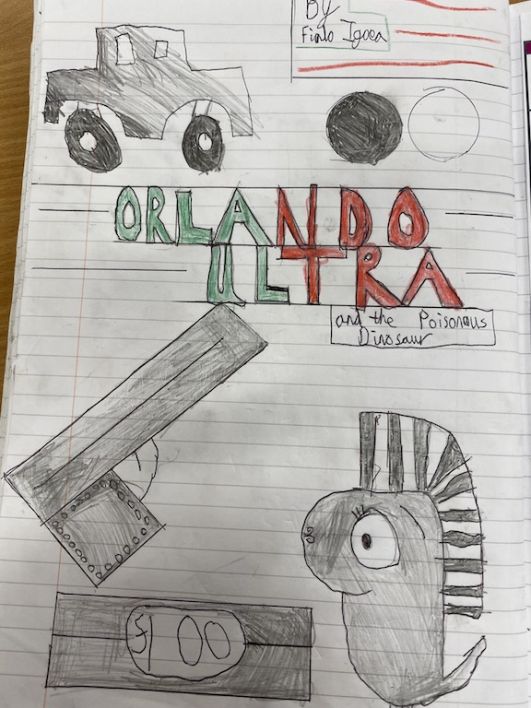 We completed our cold task where we made our first attempt at writing persuasion. We did an amazing job considering we haven't been taught anything yet!! Obviously, well practiced at persuading people to agree with us!!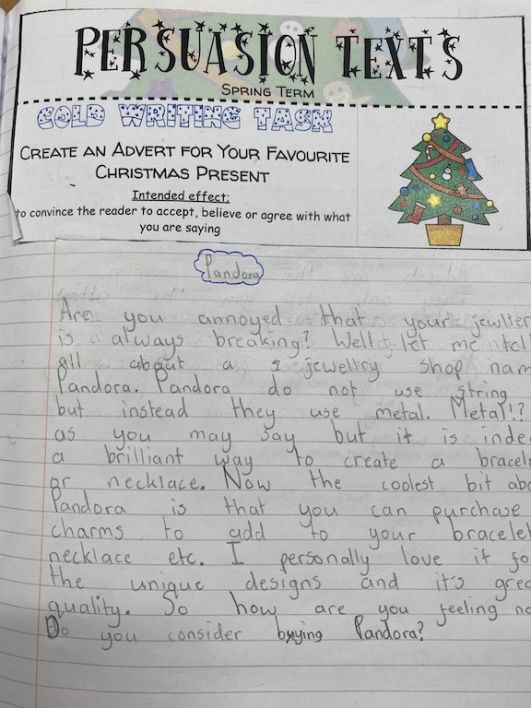 Our first week back in Numeracy focussed on Solving Problems, a theme we need lots of practice with! We focussed on the four operations (Add, Subtract, Multiply, Divide) and used the RUCSAC acronym to help us tackle them.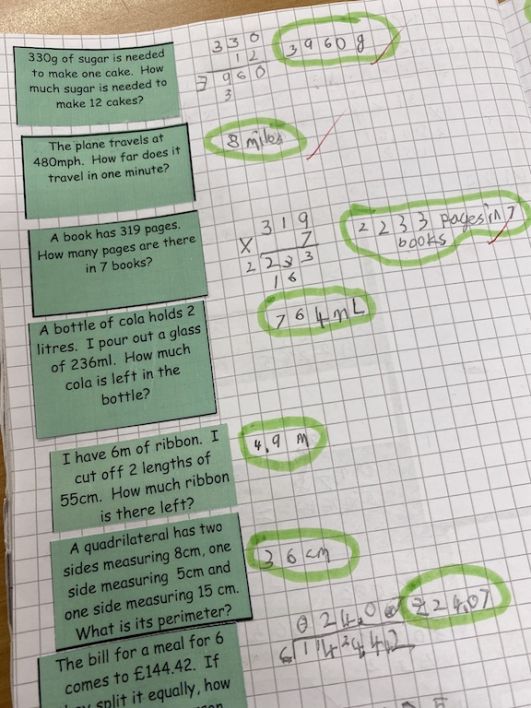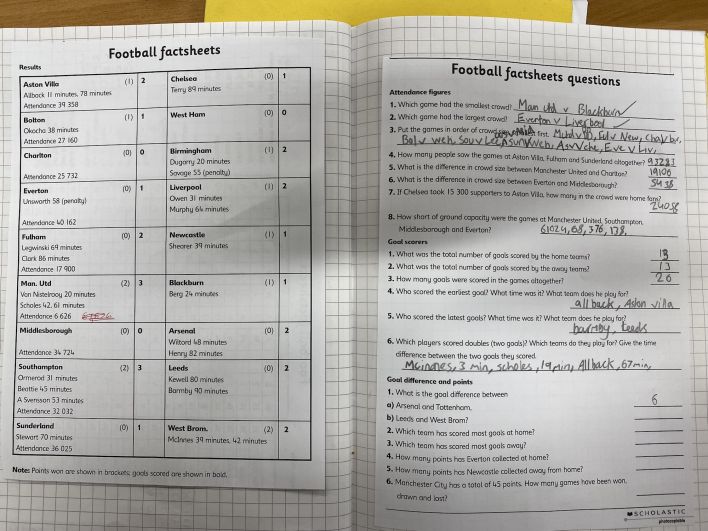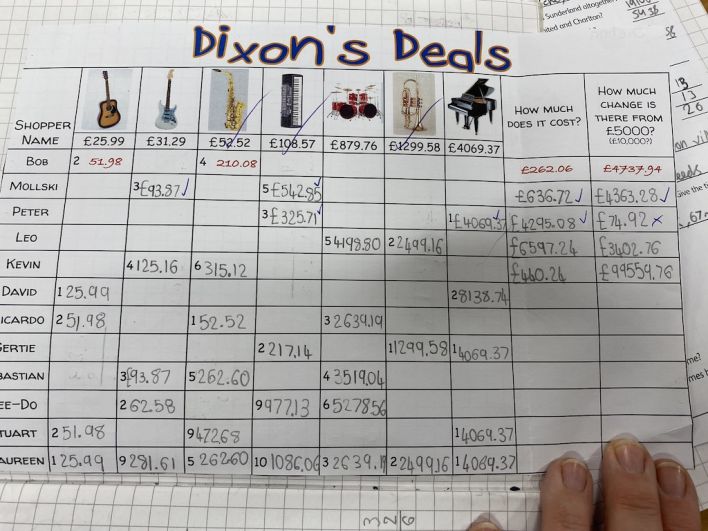 Week 7 and 8 (12th - 22nd December)
We have continued and tried to finish our class book "When Hitler Stole Pink Rabbit". During this weeks lessons, we even learnt some French phrases...tres bien!!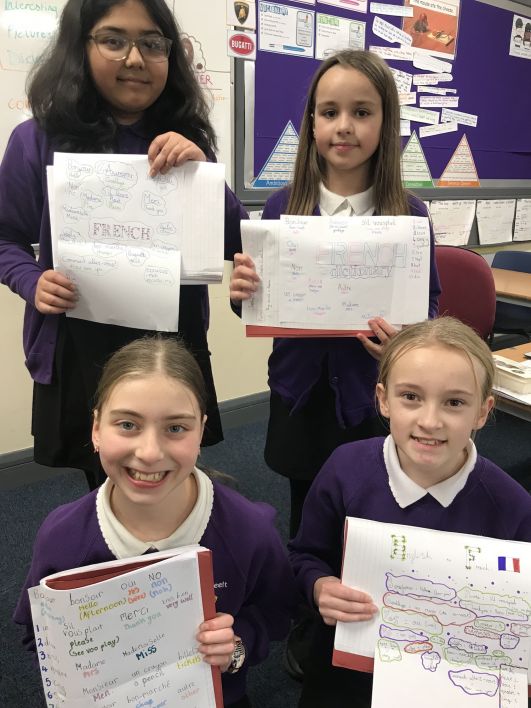 We've had lots of fun during the last few weeks with Panto and Church Concerts.
The biggest event in the Year 6 calendar is the enviable taking part in the Generation Game. Here are the Before and After shots!!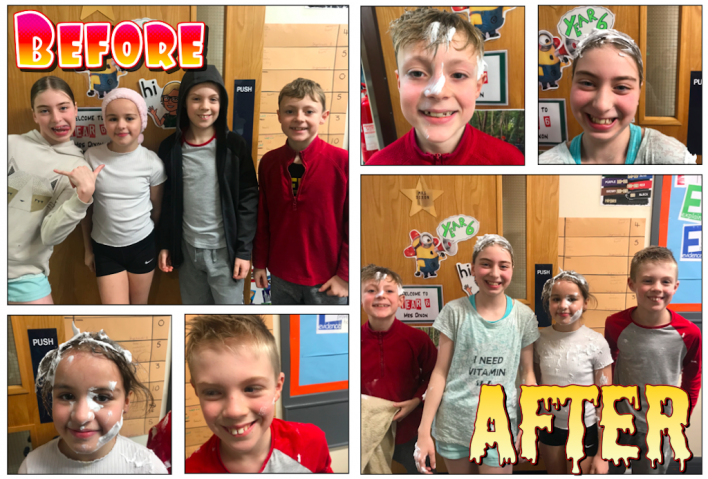 Week 6 (5th - 9th December)
Year 6 never cease to amaze Mrs Dixon! A team of boys (led by Head Boy Oliver with Ben, Max and Finlo too!) have been spending time after (and sometimes during) their playtimes collecting litter from around the playground. Next, they decided to create posters to go up around school to remind children to put their litter in the bin. Isn't that just marvellous?!!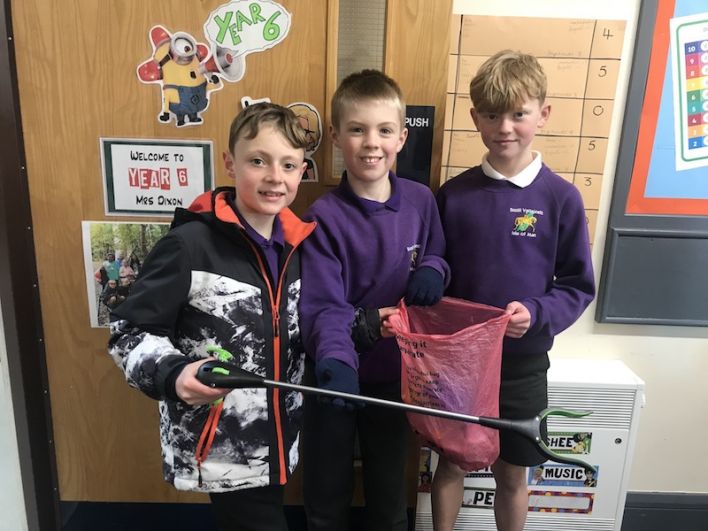 We have been learning about "Transformations" in Numeracy alongside our work on coordinates. We discussed 'reflection' and 'rotation' before playing a 'translation' treasure hunt game.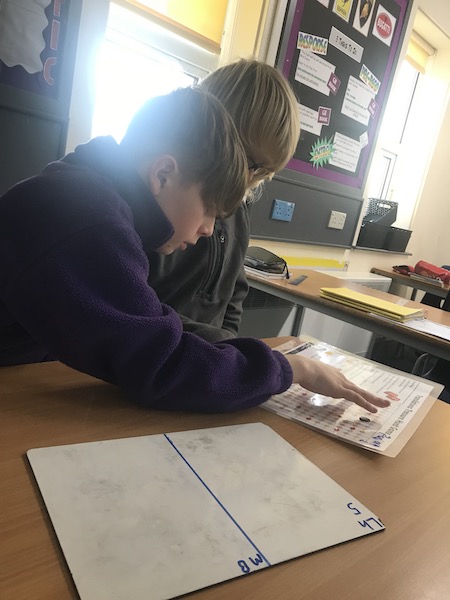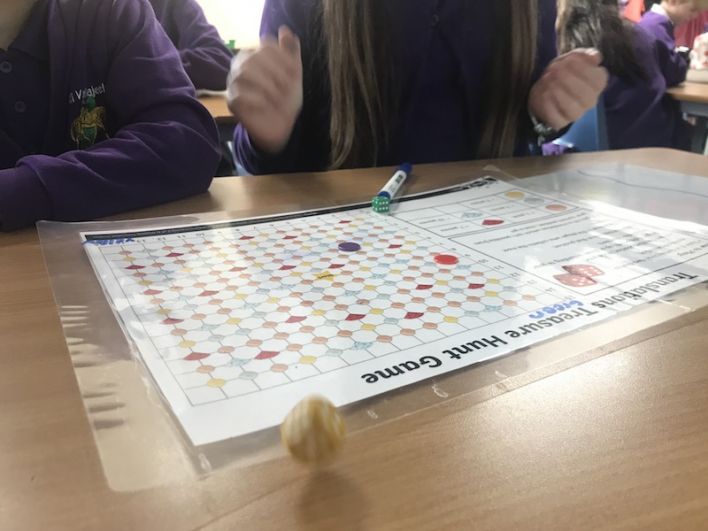 Week 5 (28th November - 2nd December)
As well as plenty of panto and singing rehearsals, Year 6 are still keeping busy with their learning!
We went to Ballakermeen for our "Police Treat:" and watched the movie 'Klaus'. We all got some chocolates on the way home - Happy Christmas!
We created a Double Page Spread all about Dunkirk or the Blitz (or both!!) and I'm sure you'll agree they look fantastic!
Week 4 (21st - 25th November)
In our World War 2 topic we have been learning all about Anne Frank as well as the next Key Event "The Dunkirk Evacuation".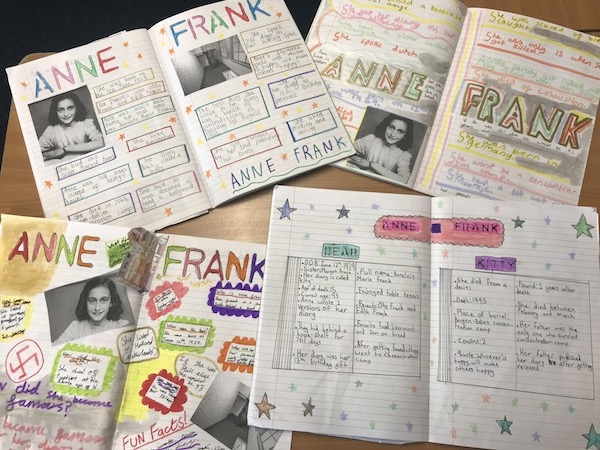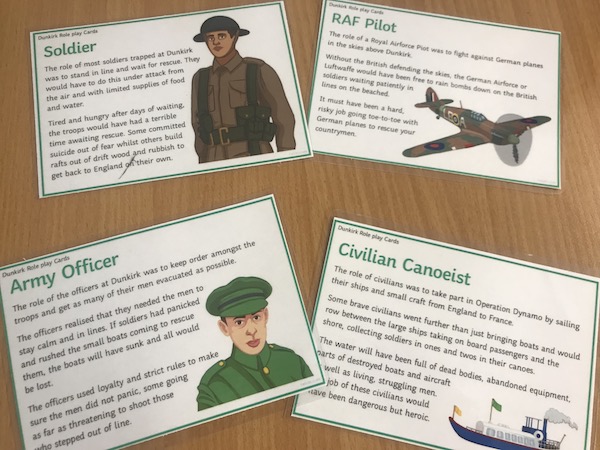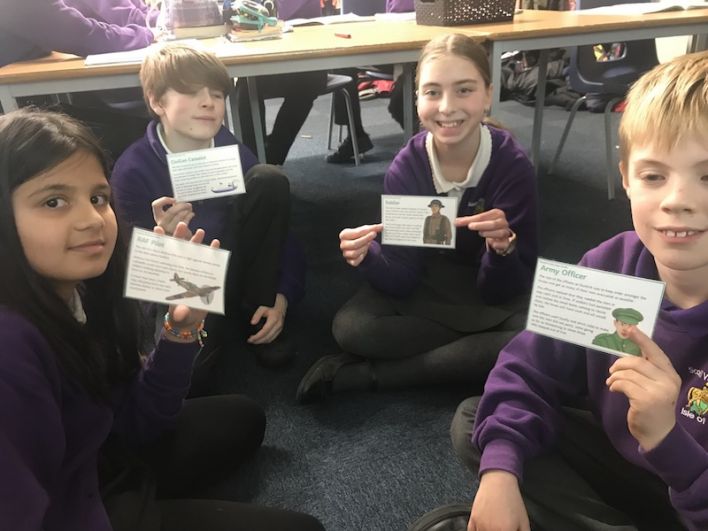 As part of their Dunkirk work, they were asked to imagine they were either a soldier, an officer, a RAF pilot or a civilian and write a short speech to show their point of view. Check how epic some of them are!!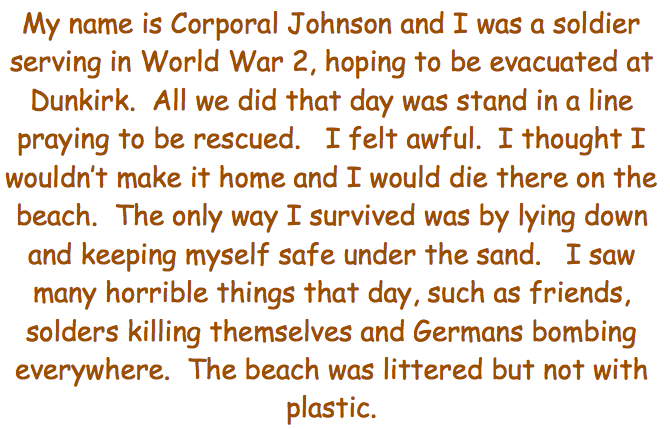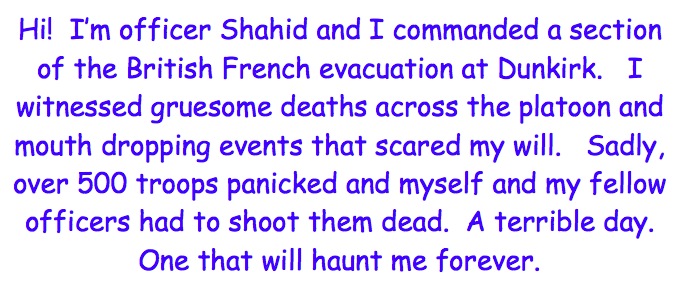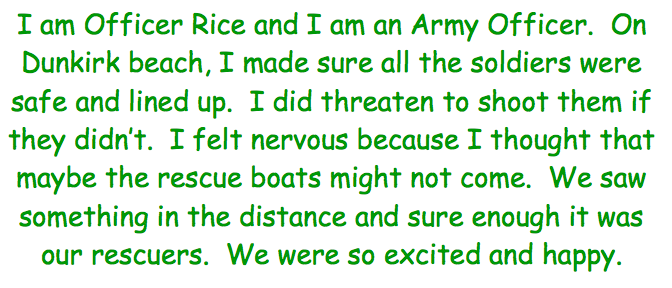 We organised another charity day, where Year 6 showed off their excellent behaviour as usual. Children in Need activities included; guess the name of the teddy, penalty shoot out, basketball shoot, hook-a-duck, tattoos and even wet sponge.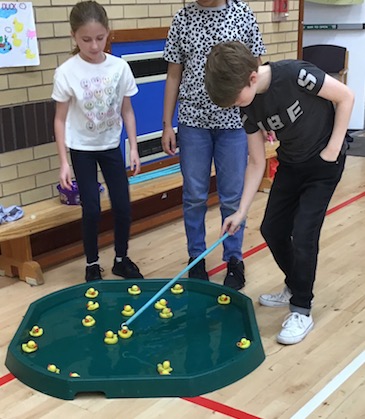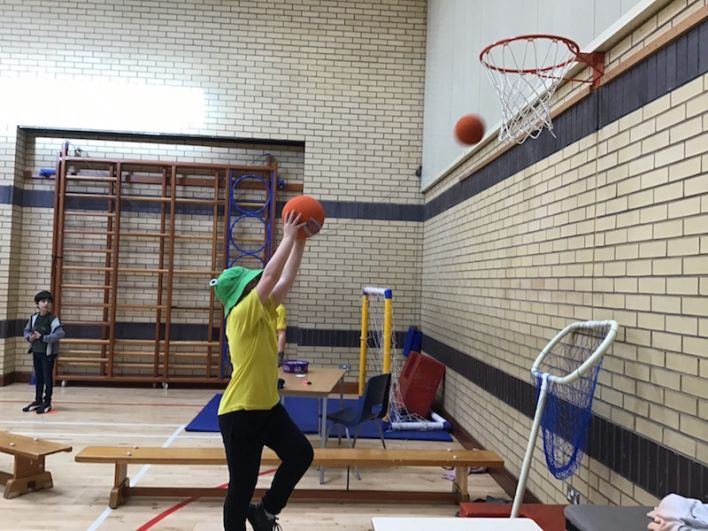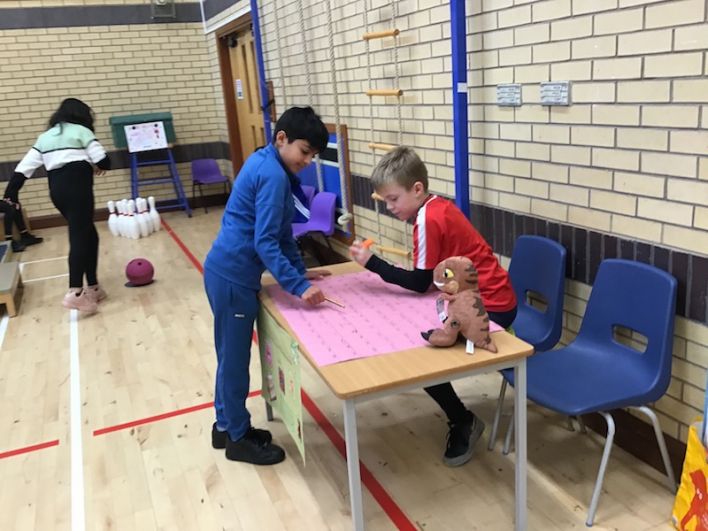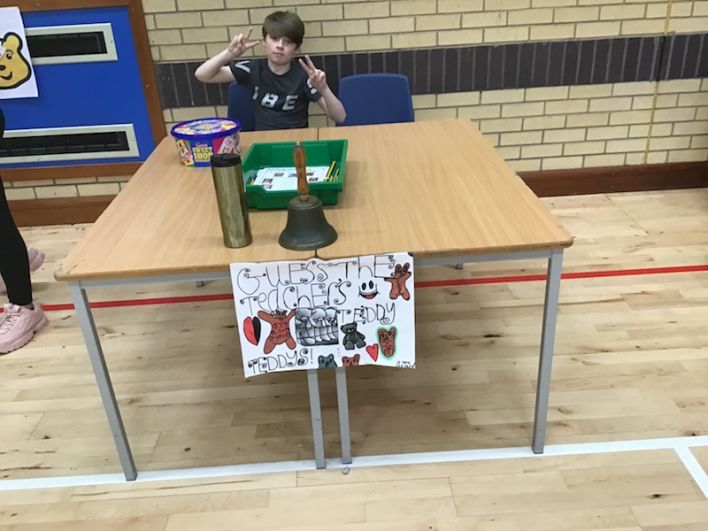 We had an exciting first trip up to Ballakermeen, taking part in an English lesson. They excelled themselves as always and really impressed the English teacher!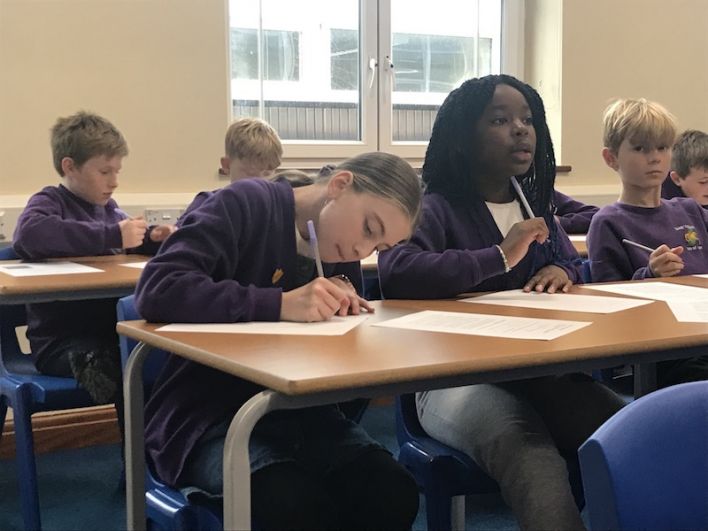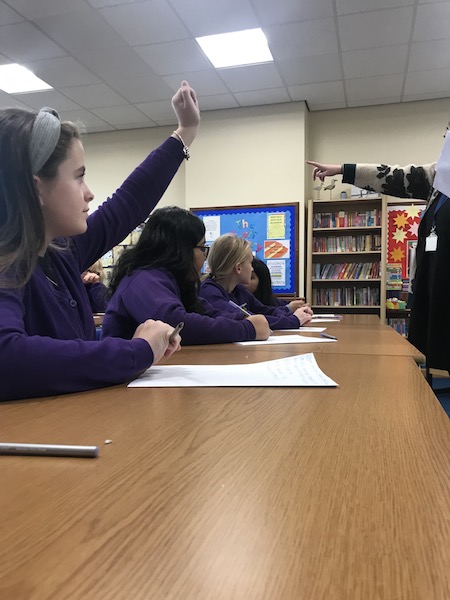 Week 3 (14th - 18th November)
As part of Literacy work on our novel "When Hitler Stole Pink Rabbit", we have been getting into character doing some Hotseating. This will help us prepare for our point of view based writing next week!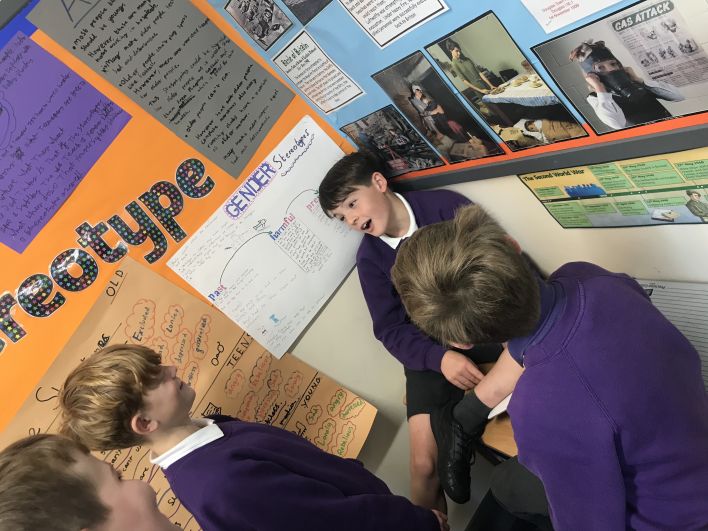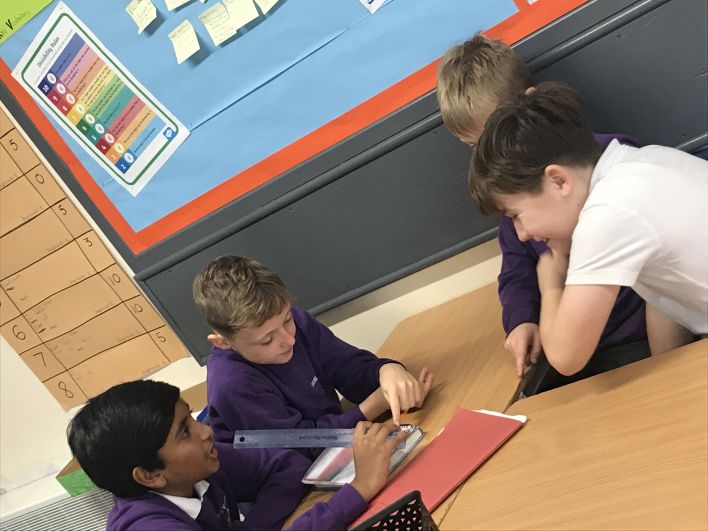 Long Division Method #2 landed this week! We had mixed reviews at first but they seem to be getting the hang of it now. Next stop, decide which method they prefer!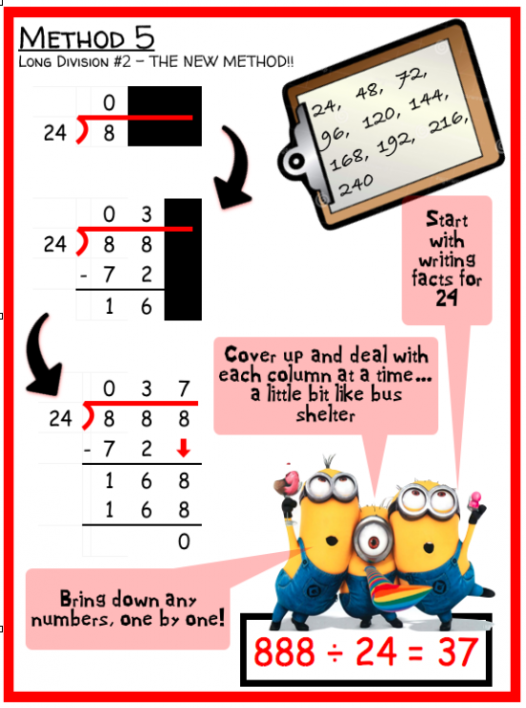 Year 6 have been epically busy organising Children in Need fundraising for the whole school. Our activities included; a raffle, ten pin bowling, penalty shoot out, basketball shot, pin the bandage on puddly, hook-a-duck, tattoos and even get the Year 6's as wet as possible with cold water!!
Week 2 (7th - 11th November)
Numeracy this week has seen Year 6 learning the first of our Long Division methods. The children worked really hard to practice this method and even challenged themselves to work with decimal numbers...even though it seemed to take a long time to get an answer, their perseverance was impressive!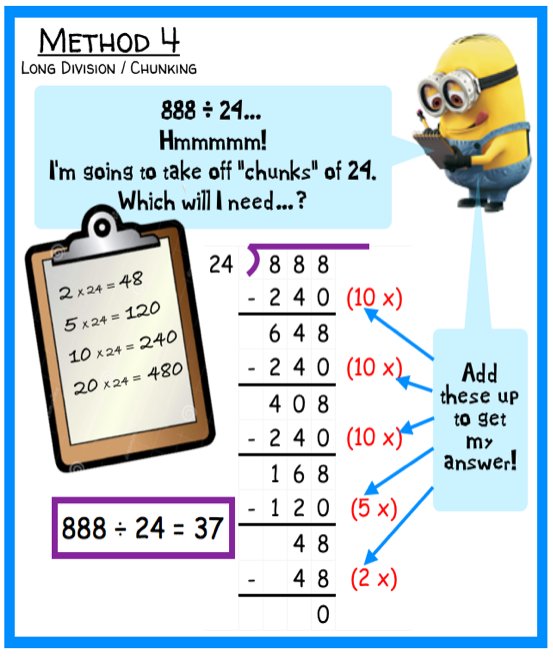 In Literacy, we have imagined that we were one of our main characters (Max or Anna) and created postcards from Zurich. I think you'll agree they look awesome hung up in our classroom!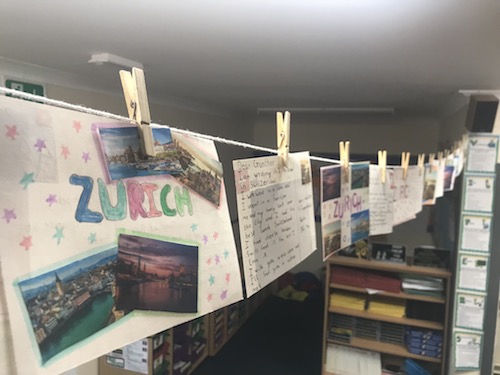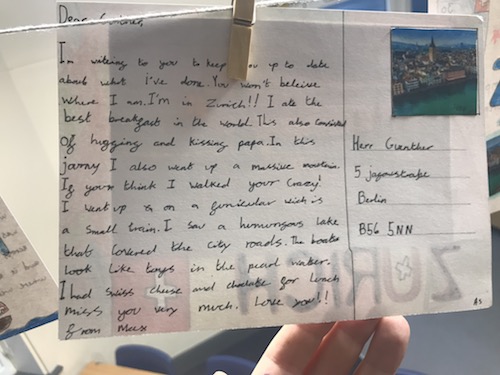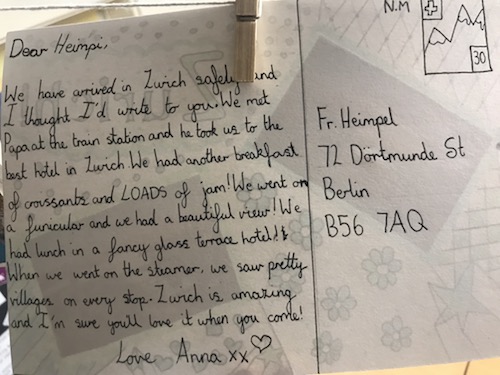 Week 1 (31st October - 4th November)
A good start back at school from our Half Term holiday. We have started a new book in Literacy called "When Hitler Stole Pink Rabbit" which will go alongside our Topic on World War 2. We also looked at Propaganda posters that were displayed in Germany before the war, to get Adolf Hitler elected.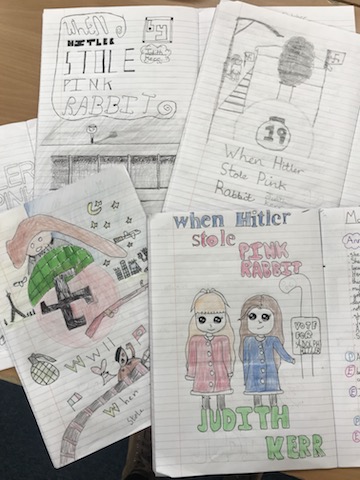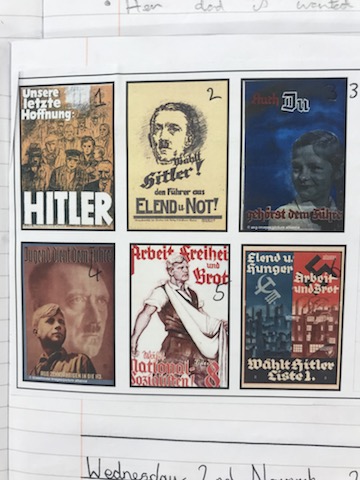 We revised our long multiplication strategies and then ran round the school finding the clues on our MultiplicationTreasure Hunt!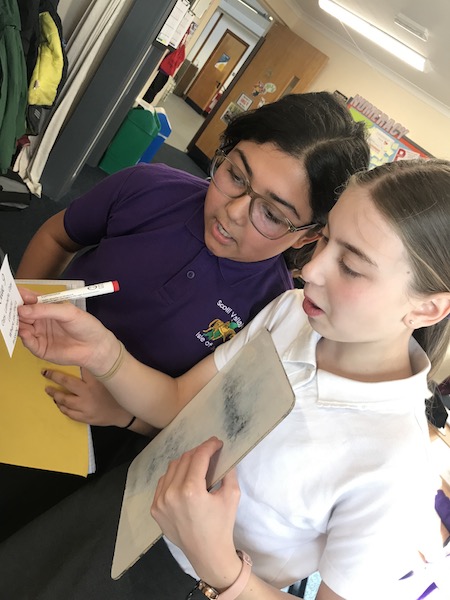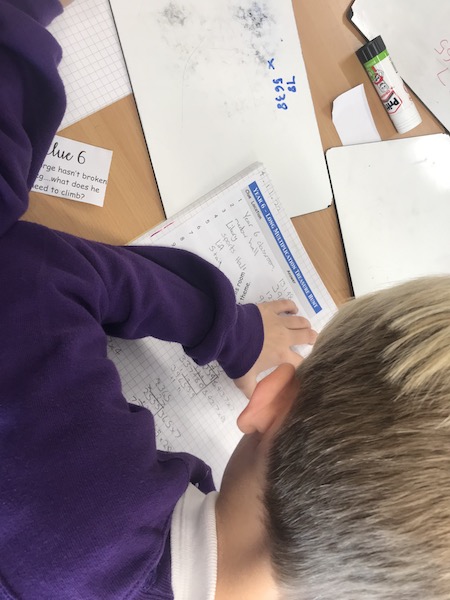 Thank you to those parents who decided to 'Stay and Learn' with us with our work on Stereotypes.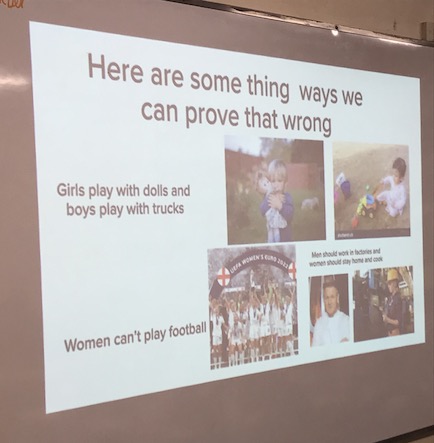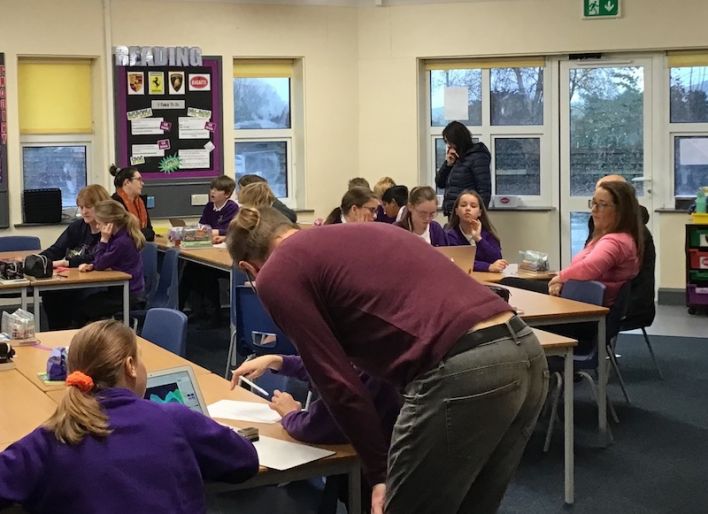 Week 7 (17th-21st October

This weeks final Year 6 Forest School took place at Lesters Yard, where the children had an absolute blast!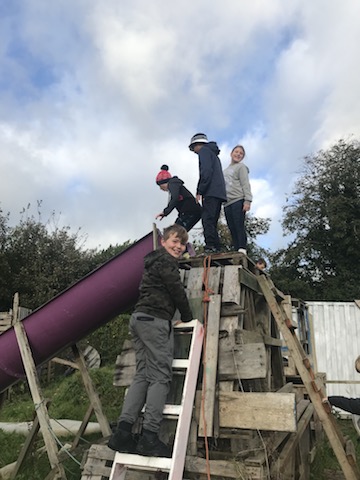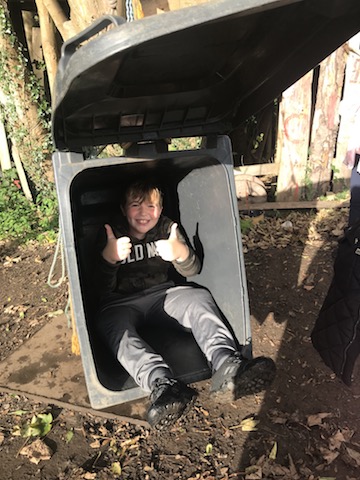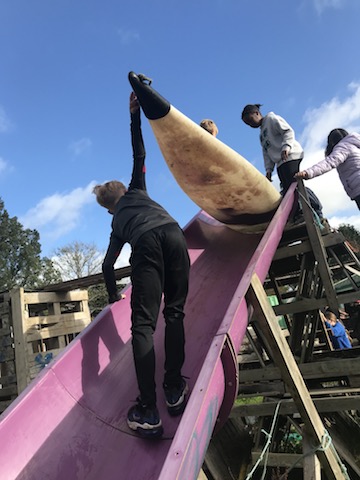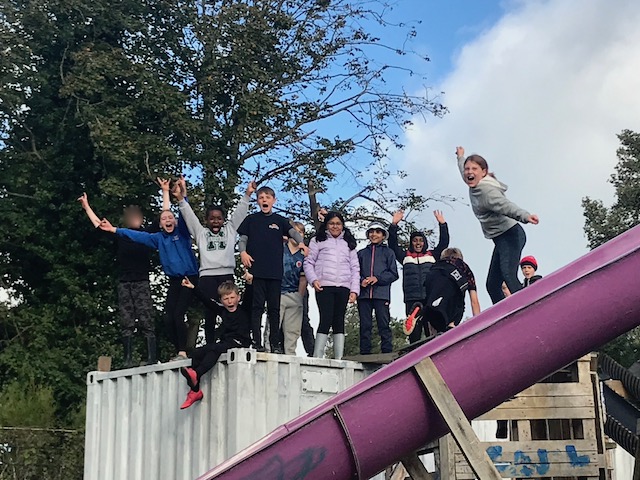 Week 6 (10th-15th October)
Another great week in Year 6 as we completed our Cycling Proficiency.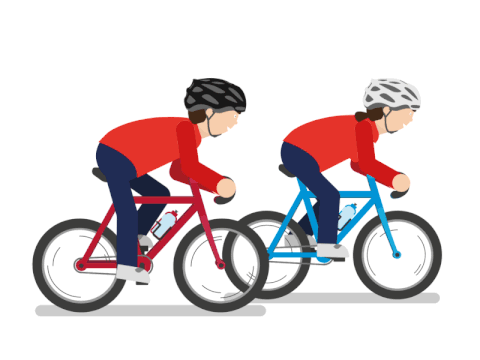 We also developed our Literacy topic by finding out how we can include suspense in our writing. Mrs Dixon hid the 'toolkit' (and some red herrings!!) around the classroom / shared areas and the children had to go hunting for them. The next stage was to decide whether they would help you make the reader think that something bad was about to happen or not and write them in the correct column in their books!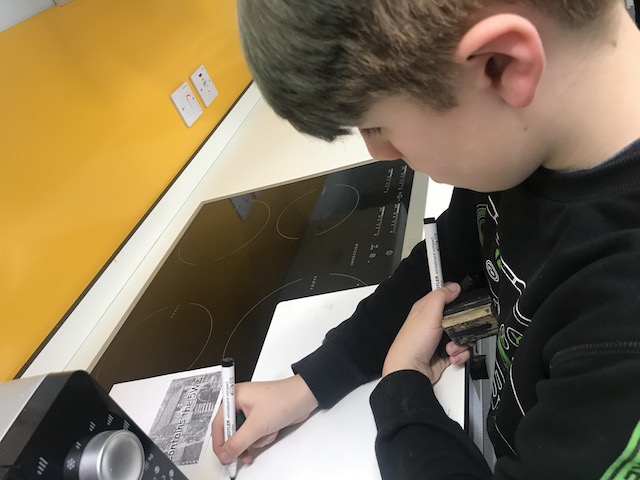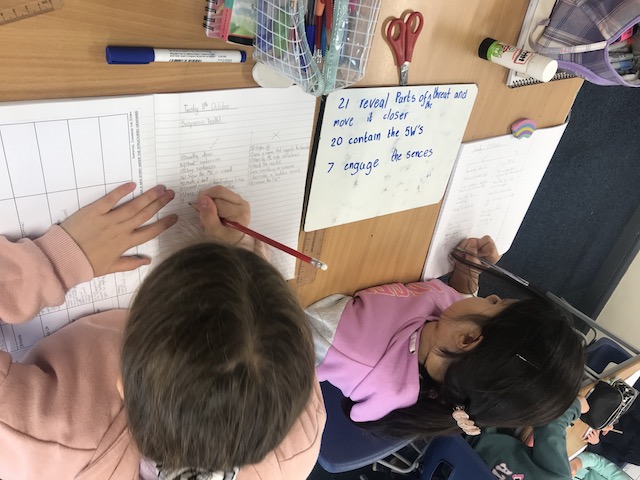 Week 5 (3rd-7th October)

Year 6 organised an excellent coffee morning on Friday which included the raffle for this gorgeous cake! We raised lots of money for the Isle of Man Hospice and 'The Big Splash'. Thank you so much to all of the parents that attended!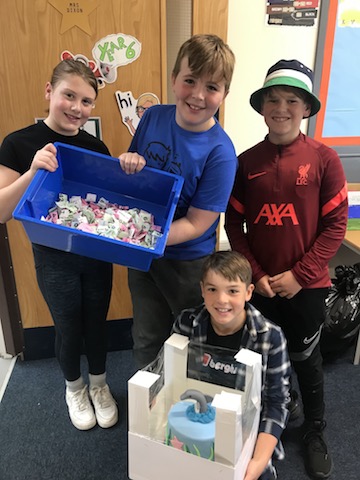 Week 4 (26th-30th September)
Our busy week started with Forest School!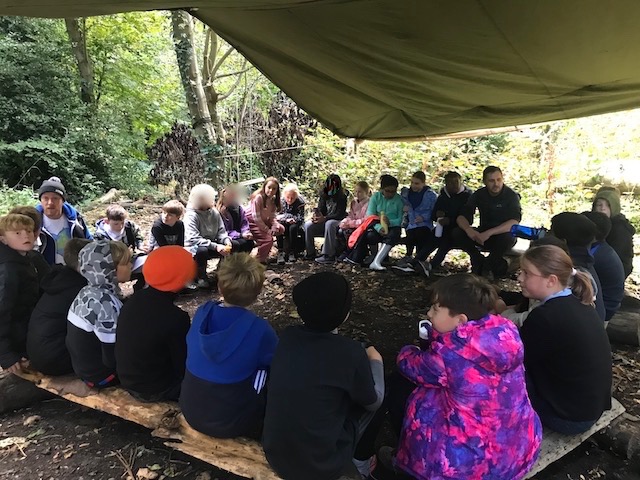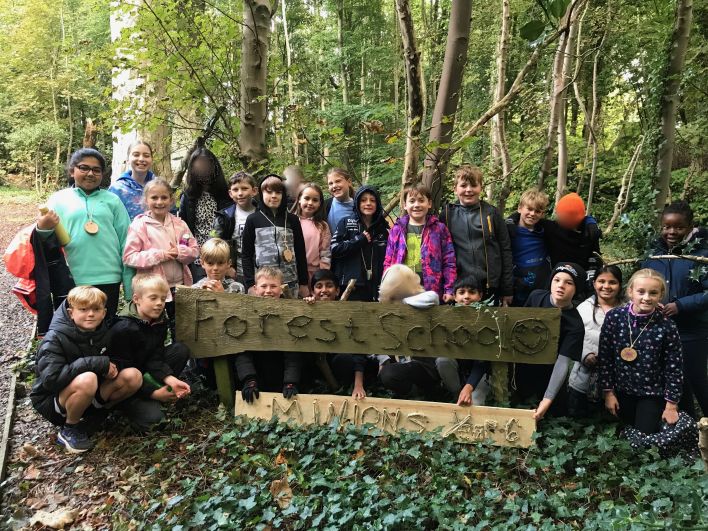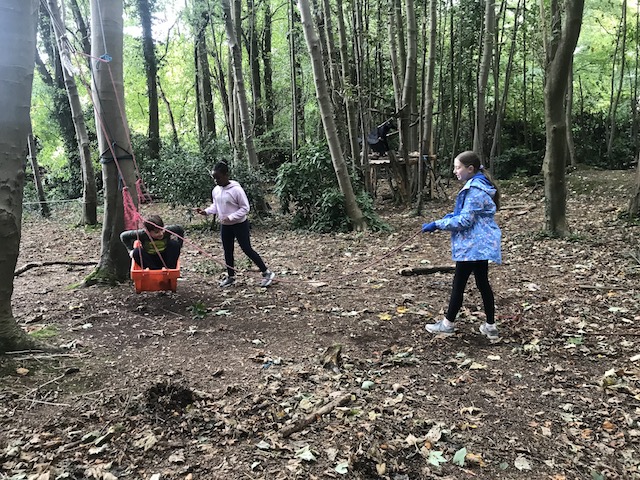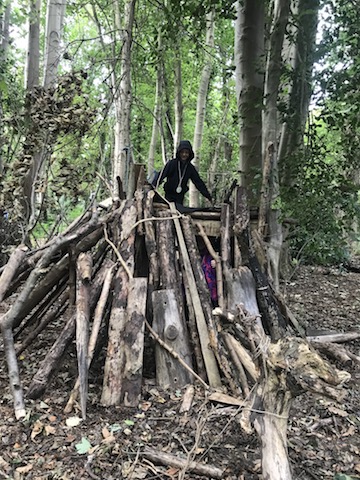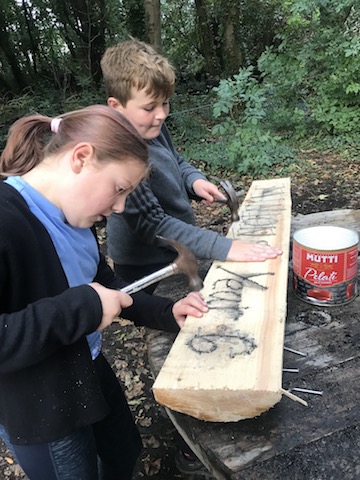 On Thursday, we had an amazing time at STEMfest at the Villa Marina. We took part in lots of hands on activities linked to different STEM careers.
Week 3 (19th-23rd September)
Another busy week in Year 6! We've tried to get as much normality as we can, so we can structure our day with lots of learning.
We've started Guided Reading and Guided Reading Homework!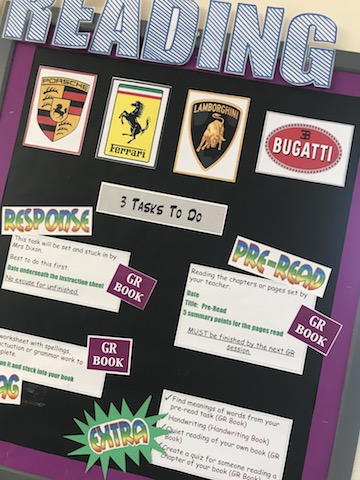 Planning Science experiments in groups worked really well, particularly because we're dealing with chocolate! More pictures to follow in the next few weeks when we actually get to melt some!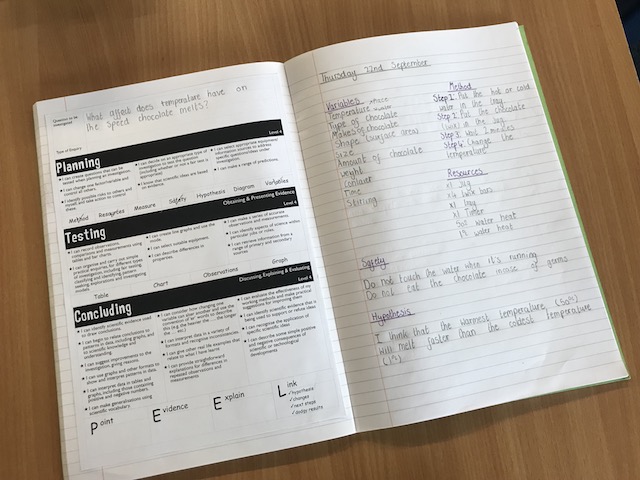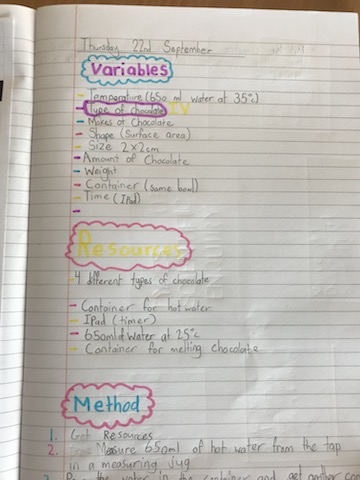 Some parents joined us for a meeting about the Year 6 Wales Trip, which we are all looking forward to!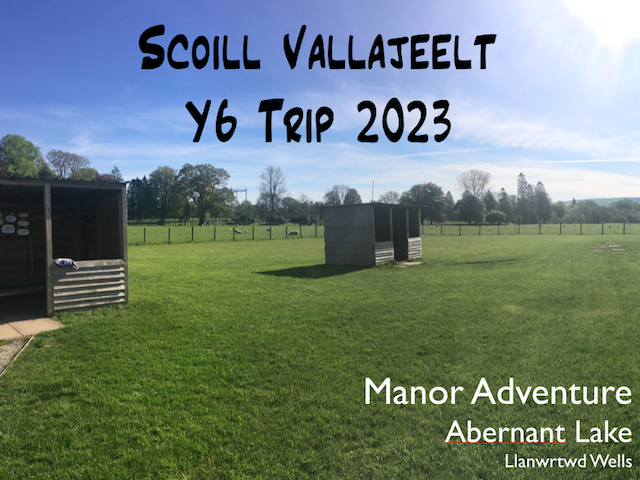 Click below to take you to the booklet with more information about the Wales Trip 2023.
Week 2 (12th-16th September)
Year 6 are given a responsibility for their final year. They've enjoyed starting their jobs and they have already proved how invaluable they are!!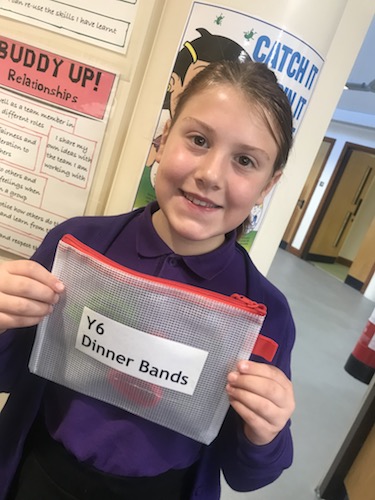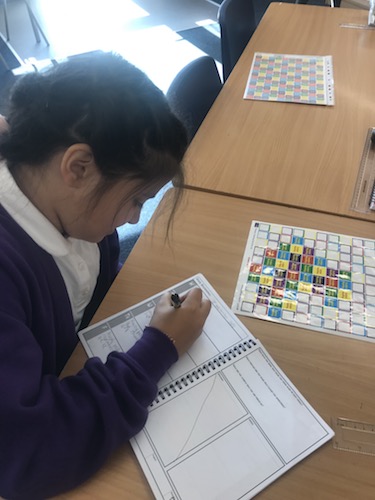 In Literacy, we wrote letters to Mrs Dixon about our summer holiday's. We have also been writing short suspense stories and learning how to expand sentences to make them more interesting. Have a read of some of these EPIC sentences!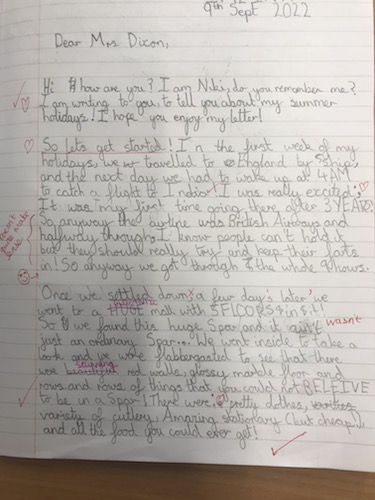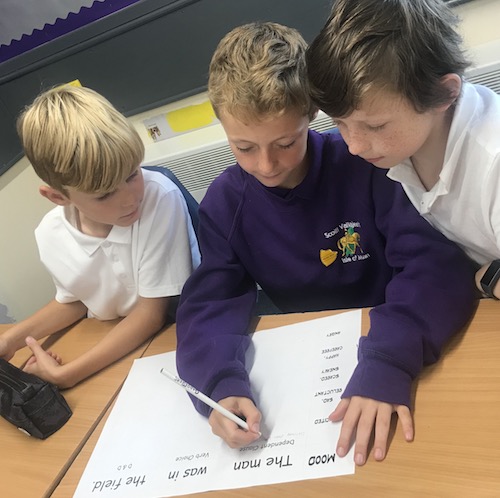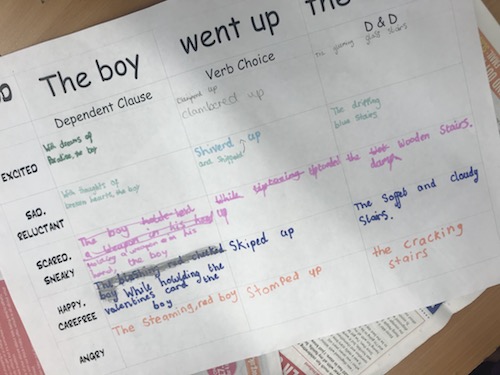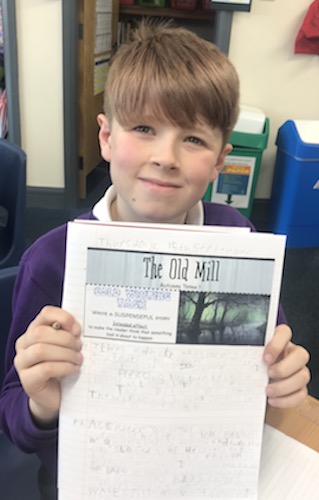 We've also had a great start to Numeracy lessons!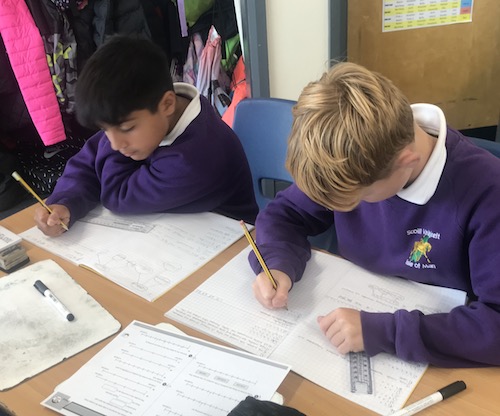 Year 6 are working hard!! Mrs D is impressed!!
16.9.22: Twenty Year Five and Six girls have signed up to lunchtime football club this term! We had a fun-filled first session this week.